RECIPE BY:
Matt Sinclair
SERVING SIZE:
2 – 4 people
INGREDIENTS:
BASIL PIKELETS
1 cup plain flour
½ tsp Bi carb soda
Salt and Pepper
1 egg
120ml milk
1 tsp apple cider vinegar
¼ cup chopped fresh basil
20gm Lurpak Salted butter, melted
Cobram Estate Classic EVOO for cooking
BRAISED GARLIC TOMATOES
3 Tbsp Cobram Estate Classic EVOO
2 cloves garlic, finely grated
350 gm mixed cherry tomatoes
2 Tbsp chopped fresh basil
2 Tbsp chopped fresh parsley
Salt and Pepper
TO SERVE
12 picked basil leaves
120gm goats cheese
1/3 cup toasted pine nuts
METHOD:
In a large mixing bowl, sift in the flour and bicarb soda, season with a little pinch of salt and pepper and mix to combine. Create a well in the centre of the flour. In a small bowl, whisk the egg, milk, vinegar butter together, add the chopped basil and pour into the well of the flour. Gradually mix the dry ingredients into the wet ingredients until you have a smooth batter.
Heat olive oil in a large frypan over a medium heat and add the garlic. Stir continuously for half a minute to avoid burning. Add the tomatoes and herbs, season with salt and pepper and toss through to combine. Reduce heat to low and cook for 6-8 minutes, tossing occasionally, until the tomatoes begin to soften slightly. Remove from heat and set aside while you make the pikelets.
Heat a little oil in a pan over medium heat. Drop large spoonfuls of batter into the heated pan – they should spread out to 7-8cm discs on their own. Cook pikelets until bubbles start to form on the top side, flip over and cook for another minute. Transfer to a plate and keep warm. Add oil back to the pan for each batch of pikelets made.
When all pikelets been made, place 1 Tbsp oil into the pan and return to a medium heat. Fry off the picked basil leaves until translucent and crispy. Transfer to paper towel to drain.
To assemble, place a serve of pikelets on each plate (2-3 each), spoon over braised tomatoes, crumble over the goats cheese and top with toasted pine nuts and fried basil leaves.
Our friends at Wine Selectors recommend pairing this dish with a Pinot Grigio or Vermentino.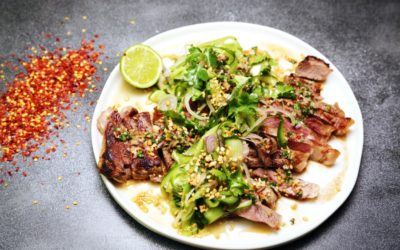 RECIPE BY: Courtney Roulston SERVING SIZE: 2 - 4 people INGREDIENTS: 2 x 230g Coles Finest Sirloin steaks 1 tablespoon Cobram Estate EVOO 2 Lebanese cucumbers, peeled into noodles 2 red shallots (French ), finely sliced ½ cup loosely packed coriander leaves ½ cup...