RECIPE BY:
Chef Kinsan (Ikuei Arakane)
SERVING SIZE:
2 – 4 people
INGREDIENTS:
120g cabbage (finely chopped)
25g spring onion (finely chopped)
100g squid tube (finely chopped)
3 tbsp vegetable oil
BATTER:
120g plain flour
1 tsp baking powder
2 eggs (size = 700g dozen)
2cm squeeze S&B Wasabi Paste Tube
140ml water
GARNISH (OPTIONAL):
aonori
bonito flake
pickled red ginger
SAUCE:
5cm squeeze S&B Wasabi Paste Tube
50g Kewpie mayonnaise
2 tbsp OBENTO Teriyaki Sauce
METHOD:
Combine and mix all the batter ingredients in a large mixing bowl. Then, add cabbage, spring onion and squid into the mixture. Mix well.
Heat ½ tbsp. oil over medium heat in a pan. Add 120ml of batter mix and cook approximately for 5 mins or until the bottom is golden brown. Flip over and thoroughly cook the other side until golden brown.
Preheat the oven to 100 degrees and bake the pancake for 5 min. Mix the sauce ingredients while waiting.
Remove the pancake from heat. Garnish. Serve hot with the sauce on the side.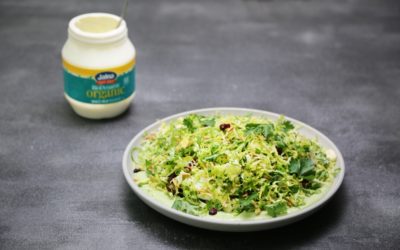 RECIPE BY: Courtney Roulston SERVING SIZE: 2 - 4 people INGREDIENTS: 600g Brussels sprouts 1 cup flat leaf parsley, roughly chopped 3 spring onions, finely sliced ½ cup slivered almonds, toasted ½ cup dried cranberries 1 tablespoons Cobram Estate EVOO Sea salt and...