RECIPE BY:
Matt Sinclair
SERVING SIZE:
2 – 4 people
INGREDIENTS:
1kg chicken wings, separated, tips removed
1/3 cup Cobram Estate Extra Virgin Robust Olive Oil
Zest and Juice of 2 lemons
1/2 cup coriander leaves and stalks, finely chopped
4 Long red chillies, roughly chopped **
4 cloves garlic, crushed
1 heaped Tbsp. brown sugar
2 tsp. Coles smoked paprika
1 tsp. Coles cayenne pepper
Salt
Lime to serve
METHOD:
Place the oil, zest and juice, coriander, chilli, garlic, sugar, spices and a pinch of salt into a food processor and blitz until evenly combined.
Place chicken wing segments into a large zip-lock bag or non-reactive container and add the marinade. Seal and turn to coat evenly. Place in refrigerator for a minimum of 2 hours.
Heat grill to a medium high heat. Remove wings from marinade, reserving excess for basting. Lightly grease the grill with oil and place wings to cook for approximately 20 minutes, turning after 10 minutes. Baste wings with marinade while grilling. Wings should be golden in colour and slightly charred on the edges, but not burned.
Serve hot with a squeeze of lime juice over the top.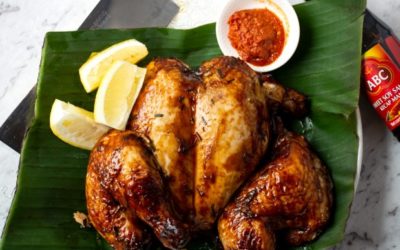 SERVING SIZE:2 - 4 people INGREDIENTS:1.5kg whole chickenMARINADE:1/2 cup ABC Sweet Soy Sauce (kecap manis)1/3 cup TCC Premium Coconut Milk6 kaffir lime leaves (thinly sliced)1 tsp cinnamon powder / 1 cinnamon stick (crushed)1 green chilli (finely sliced)1 tbsp ginger...