RECIPE BY:
Matt Sinclair
SERVING SIZE:
2 – 4 people
INGREDIENTS:
3 Tbsp Cobram Estate Extra Virgin Olive Oil
2 cloves garlic, thinly sliced
200gm new potatoes, very thinly sliced
1 red onion, thinly sliced
2 Tbsp rosemary leaves, roughly chopped
Salt and Pepper
¼ cup shredded parmesan
Pizza Dough :
1 sachet (7g) dried yeast
185ml lukewarm water
1 ¾ cups of OO flour, plus extra for dusting
Pinch of salt
2 tbsp of sugar
2 tbsp of Cobram Extra Virgin Olive Oil
METHOD :
In a small bowl, combine the yeast and water. Set aside for 10 minutes in a warm place.
Meanwhile, place the flour, sugar, olive oil and salt in a large mixing bowl and make a well in the centre. Pour the activated yeast into the well and gradually mix it in with the flour until it comes together into a dough ball. Cover the bowl with cling film and set aside in a warm place for approximately 30 minutes or until the dough has doubled in size.
Preheat oven to 180C.
Turn out the pizza dough onto a floured surface and knead for 2-3 minutes or until smooth. Flour the dough and roll out to 1.5cm thick. Transfer to a floured baking tray, drizzle with a small amount of olive oil and sprinkle over the garlic.
In a bowl, add the potatoes, onion, rosemary and the remaining olive oil and season with salt and pepper. Evenly scatter over the pizza and drizzle any excess oil over the top. Sprinkle with the parmesan cheese and place in the oven to bake in the oven for 25-30 minutes or until golden and crisp. Drizzle with a little olive oil and serve.
Our friends at Wine Selectors recommend pairing this dish with a Prosecco or Pinot Grigio or Barbera.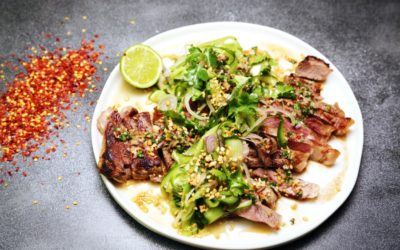 RECIPE BY: Courtney Roulston SERVING SIZE: 2 - 4 people INGREDIENTS: 2 x 230g Coles Finest Sirloin steaks 1 tablespoon Cobram Estate EVOO 2 Lebanese cucumbers, peeled into noodles 2 red shallots (French ), finely sliced ½ cup loosely packed coriander leaves ½ cup...