Seared Salmon with Sesame Dressing

RECIPE BY:
Matt Sinclair

INGREDIENTS :
2 Salmon fillets, skin on
2 baby cos lettuces', halved
Cobram Estate Classic Extra Virgin Olive Oil
Pinch of salt
SALAD:
1 cucumber, sliced into ribbons
2 small bell peppers, sliced into strips
3 spring onions, sliced
SESAME DRESSING:
2 tbsp sesame seeds
1 tbsp ginger, grated
2 tbsp mirin
2 tbsp Lee Kum Kee Premium Soy Sauce
METHOD :
In a mortar and pestle, grind up sesame seeds and a pinch of salt until a fine powder is formed. Add ginger and mirin in 2 batches and mix through.
Coat Salmon in olive oil and a generous pinch of salt. Place skin side down on pan or bbq on a medium heat for 7-8 minutes until cooked ¾ through, and then turn and cook the other side for 1-2 minutes. Coat lettuces' on olive oil and place on pan or bbq, flat side down, remove once nicely charred.
Smear the dressing on the serving plate and stack the cos lettuce on top. Sprinkle the salad ingredients on top and place the salmon to the side.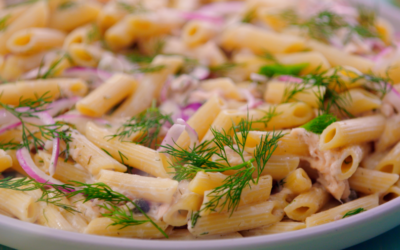 RECIPE BY: Michael Weldon SERVING SIZE: 2 - 4 people INGREDIENTS: 1 x Coles Penne Rigate 500g 1 x Coles Hot Smoked Salmon fillet 1 x ZoOSh Smoked Salmon dip ½ x Red onion, thinly sliced ½ jar Coles baby Capers ½ Dill bunch, roughly chopped (save a few sprigs for...