Smoked Salt and Pepper Squid

RECIPE BY:
Michael Weldon
INGREDIENTS :
500g Coles Squid Tubes
½ cup ZoOsh Free Range Egg Mayonnaise
2 tbsp Pyramid Smoked Sea Salt
½ cup plain flour
½ cup rice flour
2 tbsp black peppercorns
1 tbsp black pepper
¼ tsp cayenne pepper
½ tsp smoked paprika
½ tsp garlic powder
1 lemon
½ bunch of chives, finely sliced
METHOD :
Combine salt, paprika, cayenne pepper, garlic powder and both flours and set aside. Score squid and slice into strips and toss through seasoning bowl, coating the squid thoroughly. Place the squid in a sieve to remove any excess seasoning. Fry squid in small batches of oil until golden crispy.
Slice the lemon in half and place it flesh down on a griddle pan until charred. In a small dish combine mayonnaise and the juice of the charred lemon and stir through.
Serve on a platter with chives sprinkled over the top.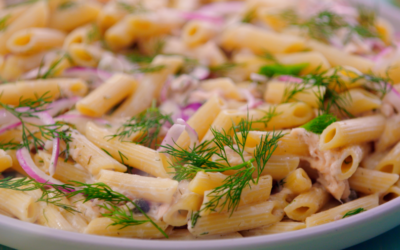 RECIPE BY: Michael Weldon SERVING SIZE: 2 - 4 people INGREDIENTS: 1 x Coles Penne Rigate 500g 1 x Coles Hot Smoked Salmon fillet 1 x ZoOSh Smoked Salmon dip ½ x Red onion, thinly sliced ½ jar Coles baby Capers ½ Dill bunch, roughly chopped (save a few sprigs for...