RECIPE BY:
Michael Weldon
SERVING SIZE:
4 people
INGREDIENTS :
1 x packet of Coles Finest Lamb Sausages
1 large Brown onion, chopped
2 garlic cloves, diced
2tbs KEEN's Curry Powder
1tbs Cumin powder
2 sprigs of Curry leaf
1 tin of Ardmona Chopped Tomatoes
1 fresh Tomato, chopped into chunks
½ cup of Frozen peas
¼ cup of raisins
Salt
Pepper
Cobram Extra Virgin Olive oil
Coriander to garnish
Yoghurt to garnish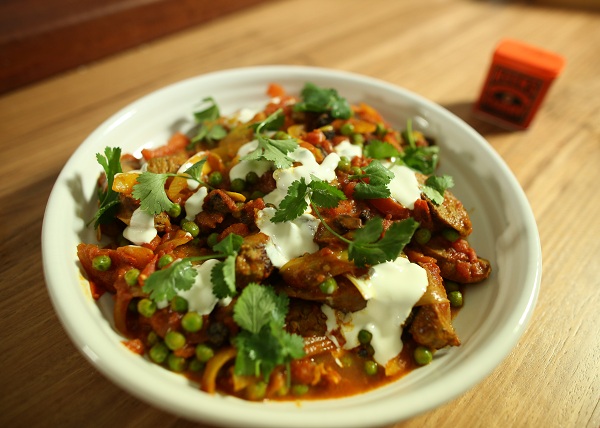 METHOD :
In a frypan over a medium heat, brown the outside of the sausages. Once brown remove from the frypan, allow to cool slightly and slice into bite sized pieces.
To the frypan add a drizzle of olive oil, the onion, garlic and ginger, with a pinch of salt. Cook for 2-3 minutes until then add the curry powder and cumin powder, mixing through. Cook for another 2 minutes then add the tin of tomatoes and the curry leaves. Bring the curry sauce to the boil then reduce to a simmer and cook for 5 minutes.
Add the fresh tomato and sliced sausages, cook until the sausages are cooked through. Add the peas and the raisins and cook until warmed through. Taste the seasoning and adjust the seasoning with salt and pepper to your liking.
Serve with steamed rice and garnish with coriander and Greek yoghurt.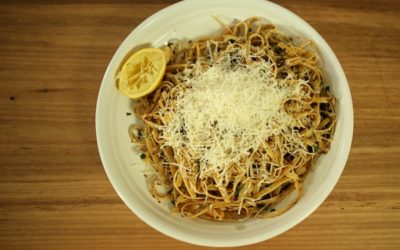 RECIPE BY: Matt Sinclair SERVING SIZE: 2 - 4 people INGREDIENTS : 300gm raw banana prawns, cleaned, chopped into 2cm pieces 130gm raw chorizo, peeled 200gm fettuccine 1 Tbsp. Cobram Extra Virgin Olive Oil 3 cloves garlic, finely sliced ¼ cup toasted pine nuts 1/3 cup...