Orange and Cinnamon Brulee
RECIPE BY:
Matt Sinclair
INGREDIENTS :
Coles 500ml thickened cream
5 XL egg yolks
½ cup caster sugar + extra for dusting
½ tsp ground cinnamon
Zest of 3 oranges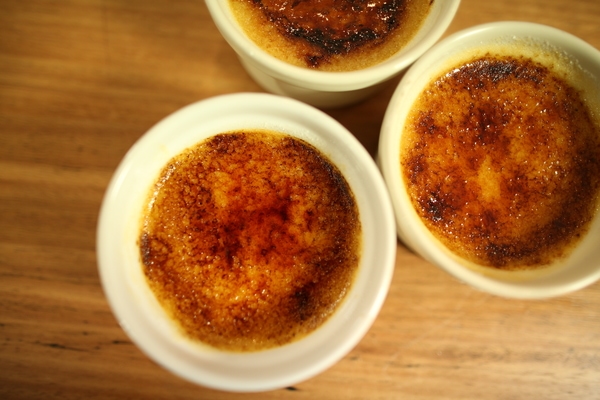 METHOD :
Pre-heat oven to 130C, fan forced.
Fill jug with water and boil.
Heat cream in a saucepan until simmering.
While cream is coming to temperature, combine egg yolks, sugar, cinnamon and zest in a bowl. Whisk until pale and fluffy.
Gradually pour hot cream into egg mixture, ensuring to whisk constantly to combine. Once all cream is incorporated, use a wooden spoon to continue to infuse orange zest and to start removing excess air bubbles.
Strain custard into a jug and divide amongst 4 ramekins and place into a large baking tray, fill tray half way up with boiling water. Place tray into oven and bake for 50 – 60 minutes. Custard should have a slight wobble when ready.
Chill brulees in the fridge for 4-6 hours.
Dust with an even layer of caster sugar and blowtorch until burnt caramel.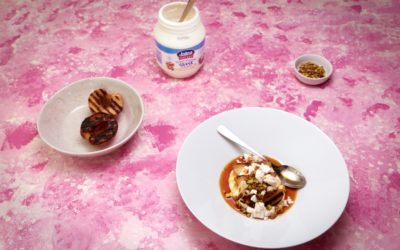 RECIPE BY: Matt Sinclair SERVING SIZE: 2 - 4 people INGREDIENTS: 1/2 cup honey 3 Tbsp water 200ml Coles Thickened cream 200ml Jalna Sweet and Creamy Yoghurt 4 meringue nests, roughly broken 2 ripe peaches, roughly chopped 2 Tbsp pistachios, chopped   METHOD : Place...