RECIPE BY:
Mel Leong
SERVING SIZE:
2 – 4 people
INGREDIENTS:
BATTER:
125g butter, softened
125g caster sugar
2 large free range eggs
125g self raising flour
Pinch of salt
SYRUP:
2 tablespoons brown sugar
120ml water
1 vanilla pod
METHOD:
Preheat oven to 180c.
Thoroughly combine the syrup ingredients in a saucepan, add the fruit and poach over a medium heat for 5 minutes, tossing the fruit around so that it is evenly covered in the syrup. Transfer most of the poached fruit and a spoonful of the syrup to a lightly greased and floured baking dish.
Meanwhile, combine the butter, sugar and eggs in a stand mixer and whisk until thick and glossy. Sift in flour gradually and combine thoroughly.
Spoon the batter over the top of the fruit and shake the pan a little bit so that everything settles evenly. Add the rest of the fruit on top, nestling it in a little.
Bake for 30 minutes. Let rest for a few minutes before serving. Serve warm with whipped cream, custard or ice cream.
Our friends at Wine Selectors recommend pairing this dish with a Botrytis Riesling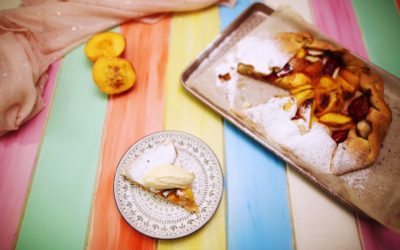 RECIPE BY: Matt Sinclair SERVING SIZE: 2 - 4 people INGREDIENTS: 2 cups plain flour 2 Tbsp caster sugar 125gm LURPAK unsalted butter, chopped 2 eggs ¼ cup almond meal 700gm firm but ripe stone fruit, thinly sliced** 2 Tbsp raw or demerara sugar Icing sugar and cream...