Poached Chicken Salad with Green Goddess Dressing
RECIPE BY:
Courtney Roulston
SERVING SIZE:
4 – 6 people
INGREDIENTS :
1 cup cooked red quinoa seeds
1 medium bulb fennel, finely sliced-fronds reserved for garnish
1 can brown lentils, drained and rinsed
2 cups baby rocket leaves
2Tb lemon juice
2Tb Cobram Estate Extra Virgin Olive Oil
1tsp honey
⅓ cup roasted almonds, chopped
Poached Chicken
2 x 200g skinless Coles chicken breast, trimmed
1 ltr Massel chicken stock
2 bay leaves (dried is fine)
2 cloves garlic
Green Goodness
1 ripe avocado
1Tb ZoOSh Free Range Egg Mayonnaise
2Tb thick Greek yoghurt
1Tb fresh chives, chopped-Plus extra to serve
1Tb fresh dill, chopped
10 fresh basil leaves, picked
1Tb lemon juice
Pinch sea salt flakes
2 tsp honey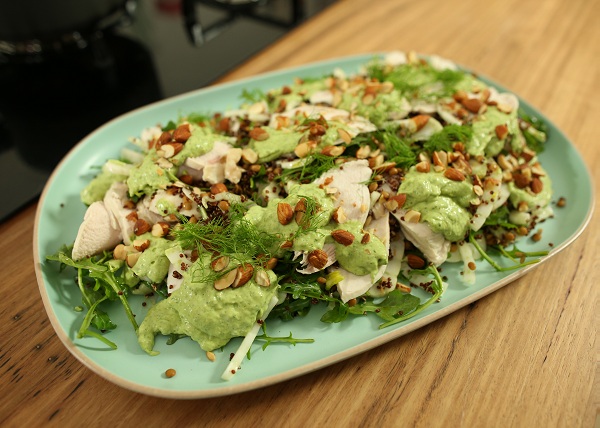 METHOD :
To poach the chicken, place the stock, bay leaves and garlic into a saucepan over a high heat. Bring up to the boil, season with salt and pepper, then place the whole chicken fillets into the pot. Turn the heat down to very low and cook the chicken for 5 minutes. Cover with a lid, turn off the heat and leave the chicken to gently poach off the heat for 10 minutes.
Meanwhile to make the green goddess, place all the ingredients into a food processor and blend until smooth. Set aside.
Place the quinoa, fennel, lentils and rocket into a large bowl. Mix the lemon juice, olive oil, honey and a pinch of sea salt together and pour over the quinoa. Mix well before placing onto a serving platter. Remove the chicken from the stock, slice into strips and place onto the salad. Drizzle over the green goddess dressing, roast almonds and reserved fennel fronds. Enjoy!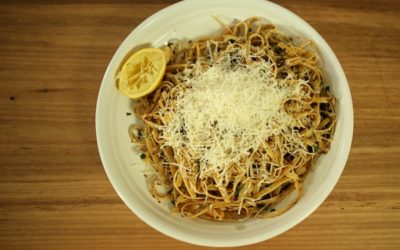 RECIPE BY: Matt Sinclair SERVING SIZE: 2 - 4 people INGREDIENTS : 300gm raw banana prawns, cleaned, chopped into 2cm pieces 130gm raw chorizo, peeled 200gm fettuccine 1 Tbsp. Cobram Extra Virgin Olive Oil 3 cloves garlic, finely sliced ¼ cup toasted pine nuts 1/3 cup...