RECIPE BY:
Michael Weldon
SERVING SIZE:
2 – 4 people
INGREDIENTS:
2 Coles Ocean Barramundi Fillets, sliced into 'spoonful size' pieces
1 Onion, diced
1 Cinnamon Quill
3 Garlic Cloves, thinly sliced
1 birdseye Chilli, sliced lengthways
Coriander Stem/root, diced
1 ½ Tsp Garam Masala
1 tsp Cumin
1 tsp Turmeric
2 Tomatoes, Diced
Cobram Estate Classic EVOO
METHOD:
In a pan on medium heat, add a drizzle of EVOO before frying off the onion with a pinch of salt. Add in garlic, turmeric, garam masala and cumin. Fry off for a few minute before adding in cinnamon quill and chilli. Stir in the chopped coriander stems, tomatoes and gentle pour in the coconut milk.
Move onto a lower heat to gently cook out the flavours.
Meanwhile in a separate pan on a high heat, add a drizzle of EVOO. Place the barramundi pieces skin side down and fry for 1 – 1.5 minutes to create a crispy skin before placing them flesh side down into the curry.
Cook until the fish is cooked through and the sauce has thickened.
To serve, place the fish into a bowl. Add a squeeze of lime to the curry sauce and stir. Spoon the curry into the bowl. Add a drizzle of coconut milk.
Garnish with coriander leaves and serve with a slice of lime.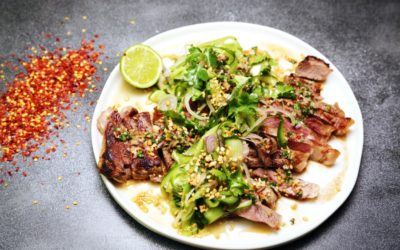 RECIPE BY: Courtney Roulston SERVING SIZE: 2 - 4 people INGREDIENTS: 2 x 230g Coles Finest Sirloin steaks 1 tablespoon Cobram Estate EVOO 2 Lebanese cucumbers, peeled into noodles 2 red shallots (French ), finely sliced ½ cup loosely packed coriander leaves ½ cup...