RECIPE BY:
Matt Sinclair
SERVING SIZE:
2 – 4 people
INGREDIENTS :
300gm raw banana prawns, cleaned, chopped into 2cm pieces
130gm raw chorizo, peeled
200gm fettuccine
1 Tbsp. Cobram Extra Virgin Olive Oil
3 cloves garlic, finely sliced
¼ cup toasted pine nuts
1/3 cup parmesan cheese, finely grated
Parsley to garnish
½ lemon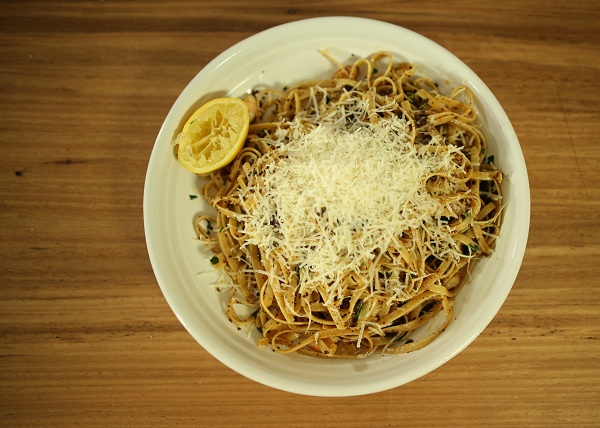 METHOD :
In a large saucepan, bring water and a pinch of salt to a boil. Add pasta and cook as per instructions. Strain and drizzle with a little olive oil. Set aside.
In a food processor, blitz chorizo into smaller chunks.
Heat olive oil in a large pan over medium heat. Add garlic and cook for approximately 2 minutes until aromatic. Add chorizo and cook for a further 2-3 mins, until caramelised. Add prawns, stir to combine and cook for a further 1-2 mins. Add cooked pasta and fold in gently to combine.
Serve and sprinkle with toasted pine nuts, parmesan cheese and fresh parsley. Squeeze lemon juice over pasta and serve immediately.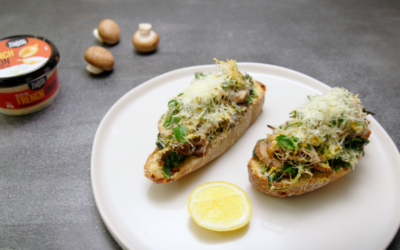 RECIPE BY: Matt Sinclair SERVING SIZE: 2 - 4 people INGREDIENTS: 3 Tbsp Cobram Estate Classic Extra Virgin Olive Oil 1 brown onion, finely sliced 150gm Swiss brown mushrooms Salt and pepper 4 spring fresh thyme 100gm baby spinach 60gm Zoosh French Onion Dip 1 Tbsp...