Spiced Stuffed Roast Pumpkin with Lemon Tahini Dressing
RECIPE BY:
Courtney Roulston
SERVING SIZE:
6 – 8 people
INGREDIENTS :
1 whole kent pumpkin, around 2/ 2.5kg
1/3 cup (80ml) cobram olive oil
1 brown onion, diced
2 teaspoon ground cumin
1 teaspoon ground cinnamon
2 cups curly kale, stems removed, finely chopped
2/3 cup vegetable stock
1 packet Ainsley Harriot Moroccan Medley Cous Cous
1/3 cup pistachio nuts, roughly chopped-plus extra to serve
1/3 cup roast almonds, roughly chopped
1/3 cup dried cranberries (craisins)
Tahini Dressing:
1 cup plain Greek yoghurt
1 tablespoon lemon juice
1 tablespoon olive oil
2 tablespoon Coles tahini paste
1 tablespoon Coles maple syrup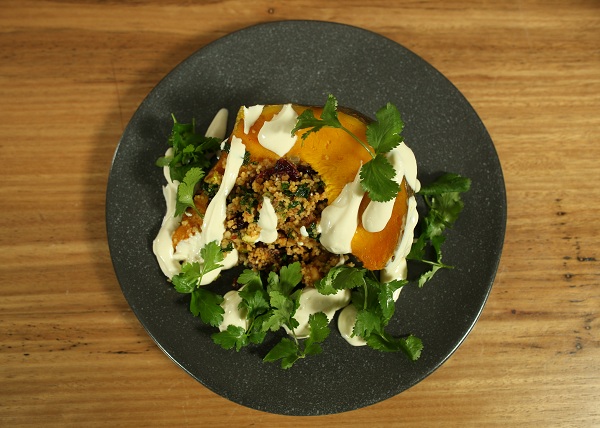 METHOD :
Pre-heat oven to 200 degrees.
Using a sharp knife, carefully cut a circle from the top of the pumpkin to create a plug.
Scoop out the seeds and membrane and discard, but keep the plug. Tear off a piece of tin foil that is large enough to wrap around the pumpkin in a double layer and place the pumpkin in the center.
Heat half of the olive oil in a large non-stick frying pan over a medium heat. Add the onion and cook for 2 minutes before adding in cumin, cinnamon and kale. Continue to cook for 2 minutes, or until the kale has wilted.
Add in the vegetable stock and heat through.
Add in the CousCous mix, gently stir and remove from the heat.
Cover and leave to steam for 3-4 minutes.
Fluff the mixture with a fork before adding in the nuts and cranberries.
Spoon the couscous into the inside of the pumpkin and use the back of a spoon to pat the stuffing in tightly.
Place the plug back onto the top of the pumpkin and rub over the remaining olive oil.
Wrap the pumpkin in the foil and bake on an oven tray for 50 minutes.
Remove the foil from the pumpkin and roast uncovered for a further 20 minutes, or until the pumpkin is soft when a skewer is inserted into the flesh. Remove the pumpkin from the oven and allow to rest for 5 minutes before cutting into thick wedges.
Whisk all the lemon tahini dressing ingredients together in a bowl with a pinch of sea salt.
To serve, place wedges of the stuffed pumpkin onto serving plates and drizzle with the dressing and scatter with extra pistachio nuts. Enjoy!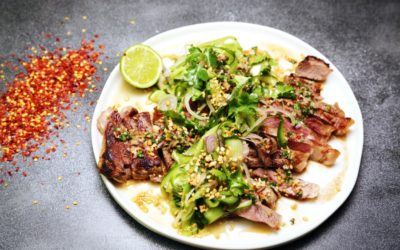 RECIPE BY: Courtney Roulston SERVING SIZE: 2 - 4 people INGREDIENTS: 2 x 230g Coles Finest Sirloin steaks 1 tablespoon Cobram Estate EVOO 2 Lebanese cucumbers, peeled into noodles 2 red shallots (French ), finely sliced ½ cup loosely packed coriander leaves ½ cup...