Charred Baby Broccoli and Soft Egg Salad
RECIPE BY:
Courtney Roulston
SERVING SIZE:
2 people
INGREDIENTS :
2 bunches baby broccoli, trimmed
4 free range eggs, room temperature
1 tablespoon Extra Virgin Olive Oil
1 x 250gm Coles Black Rice ready to eat pocket
2 tablespoons Asian fried shallots to garnish
¼ bunch coriander, leaves picked to garnish
1 lime to garnish
Chilli Caramel:
200g palm sugar
100ml water
2 cloves garlic, finely sliced
2 long red chillies, sliced
1 tablespoon tamarind puree
2 tablespoons  fish sauce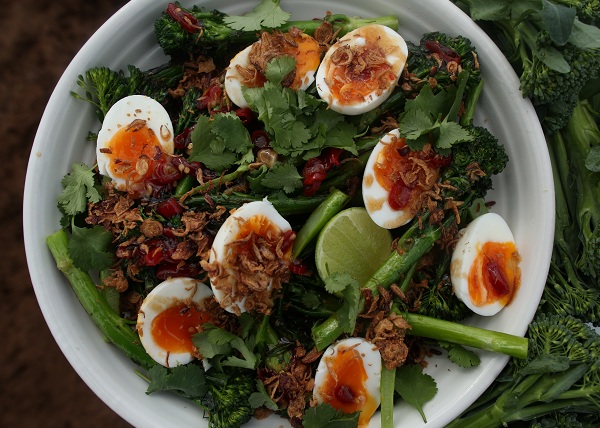 METHOD :

To make the chilli-caramel, Place the palm sugar and water into a medium sized saucepan over a medium heat. Stir until the sugar has dissolved then add in the garlic, chilli, tamarind and fish sauce. Bring up to a boil, then reduce the heat to a gentle simmer for 6-8 minutes, or until the mixture is sticky and has thickened. Set aside.
Bring a pot of salted water up to a boil. Add the eggs, cook for 6 minutes then remove and place them into a bowl of iced water to stop them cooking. Peel once cool enough to handle and set aside.
Heat a char grill plate or frying pan over a high heat. Toss the broccolini with olive oil and a pinch of sea salt. Grill the broccolini for 3-4 minutes, or until charred and tender.
To serve, place the warm black rice onto the base of serving bowls. Top with the broccolini and sliced eggs. Drizzle over the chilli caramel dressing and garnish with fried shallots, coriander and lime wedges.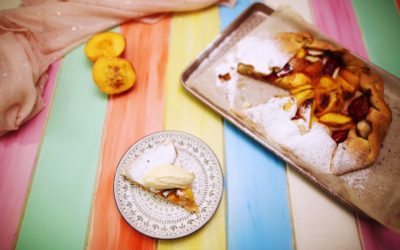 RECIPE BY: Matt Sinclair SERVING SIZE: 2 - 4 people INGREDIENTS: 2 cups plain flour 2 Tbsp caster sugar 125gm LURPAK unsalted butter, chopped 2 eggs ¼ cup almond meal 700gm firm but ripe stone fruit, thinly sliced** 2 Tbsp raw or demerara sugar Icing sugar and cream...