A favourite street food choice at any market or festival Matt goes to. Always looking out for the Gozleme stall!
RECIPE BY:
Matt Sinclair
SERVING SIZE:
4 people
INGREDIENTS :
250ml warm water
2 tsp dry yeast (7gm)
Salt
3 cups plain flour
Sugar
¼ cup Cobram Extra Virgin Olive Oil
2 Tbsp. Greek yoghurt
Sugar
Cobram Extra Virgin Olive Oil for Cooking
Filling
150gm silverbeet, stems removed, finely chopped
3 spring onions, trimmed, finely sliced
¼ cup parsley leaves, finely chopped
2 Tbsp. Cobram Extra Virgin Olive Oil
Salt and Pepper
150gm Greek feta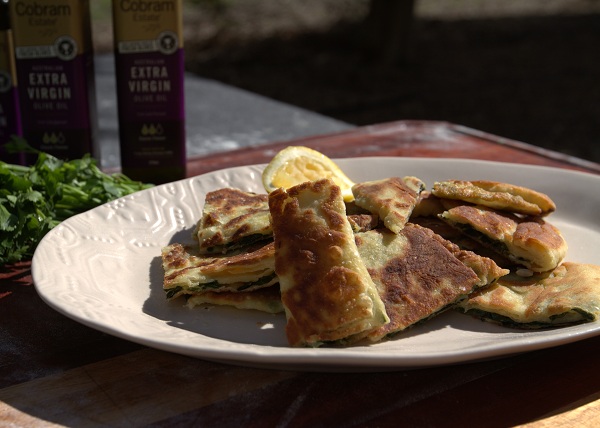 METHOD :
In a small bowl add 150ml warm water, yeast and a pinch of salt and mix to combine, set aside in a warm place for 5 minutes. Bubbles should form on the surface.
In a large bowl, sift the flour and create a well in the centre. Pour in the yeast mixture, olive oil and yoghurt and ½ of the remaining water. Using your hands, fold in the flour from the sides into the middle and bring together. Add extra water if needed, a little bit at a time and knead into a soft dough. ** Dough should be pliable and elastic, and not too sticky too handle. Turn out onto a floured surface and divide into 6 equal pieces. Knead each portion until smooth and roll them into soft balls. Transfer to an oiled tray, cover with a clean cloth and set aside in a warm place for 30 minutes or until dough balls have doubled in size.
Meanwhile make the filling. Place the silverbeet, onions, parsley and olive oil into a large bowl and season with salt and pepper. Massage the mixture for 1-2 minutes to soften the silverbeet. Crumble in the feta and toss to combine. Taste and adjust seasoning if required. Set aside until needed.
Lightly dust a work surface with flour and roll out one of the balls with a floured rolling pin into a rectangle shape, as thinly as possible, approximately 30cmx40cm. Drizzle with a little olive oil and fold the left and right sides into the middle. Spoon ¼ cup of the filling into the middle and spread out evenly. Fold the top and bottom into the middle to cover the filling. Pinch the sides together to seal. Repeat with remaining dough.
Place a large pan over a medium heat and drizzle with olive oil. Brush one side of the gozleme liberally with olive oil and place in the pan for 2-3 minutes or until golden brown. Brush the uncooked side with olive oil and flip over. Cook for a further 2-3 minutes until golden brown. Cut into squares, season with salt and a generous squeeze of fresh lemon. Serve immediately.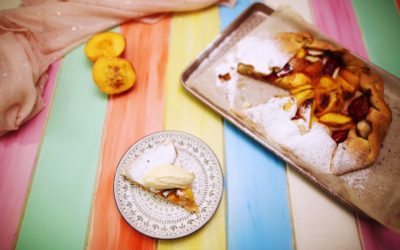 RECIPE BY: Matt Sinclair SERVING SIZE: 2 - 4 people INGREDIENTS: 2 cups plain flour 2 Tbsp caster sugar 125gm LURPAK unsalted butter, chopped 2 eggs ¼ cup almond meal 700gm firm but ripe stone fruit, thinly sliced** 2 Tbsp raw or demerara sugar Icing sugar and cream...