Italian Meatballs with Spaghetti
RECIPE BY:
Matt Sinclair
SERVING SIZE:
4 people
INGREDIENTS :
Meatballs
500gm Coles Pork mince
340gm spaghetti
1 cup panko crumb
½ cup milk
100gm hot sopressa, finely shredded and diced
1 Tbsp finely chopped fresh rosemary leaves
½ Tbsp. fennel seeds
1 egg
Salt and Pepper
Past Sauce
3 Tbsp. Cobram Extra Virgin Olive Oil
1 brown onion, finely chopped
3 cloves garlic, finely chopped
2 Tbsp. tomato paste
1 tin Ardmona Crushed Tomatoes
2 Tbsp. finely chopped fresh parsley
1 Tsp. dried oregano
3 ½ cups Massel Liquid Vegetable Stock
Salt and Pepper
½ cup freshly grated parmesan
1/3 cup finely chopped fresh parsley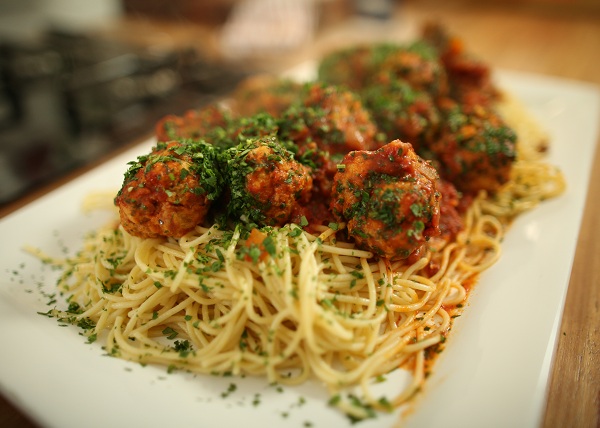 METHOD :
In a large bowl, place the breadcrumbs and milk, stir to combine and allow to soak and absorb for 2-3 minutes. Add the remaining meatball ingredients including a generous pinch of salt and freshly ground black pepper. Mix well to combine. Using wet hands, roll mixture into walnut-sized balls and place on a lined baking tray until required (cover with cling film and refrigerate if you are making these ahead of time).
In a large pot, heat olive oil over low-medium. Add the onions and sauté for 3-4 minutes, or until almost translucent. Add the garlic and sauté for further 2 minutes, stirring continuously to avoid browning. Add tomato paste and stir through onions and garlic for a further 1-2 minutes. Add tinned tomato, herbs and vegetable stock, increase heat to medium-high and bring to a boil. Reduce to a simmer and season to taste with a generous pinch of salt and freshly ground black pepper.
Drop the meatballs into the sauce and allow to sit for 10 minutes without stirring. This will ensure that the meatballs firm up well and do not break-up in the sauce. Simmer for a minimum of 1 hour, stirring regularly to ensure even cooking. Taste and adjust seasoning if required. Add a little more vegetable stock if the sauce thickens too much.
Meanwhile, place a pot of salted water over a high heat and bring to a boil. Add spaghetti and cook as per packet instructions. Strain and add to the meatball sauce. Stir through carefully, divide into serving bowls and garnish with fresh parsley and grated parmesan cheese.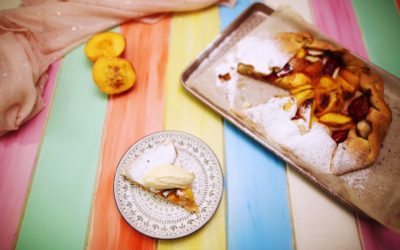 RECIPE BY: Matt Sinclair SERVING SIZE: 2 - 4 people INGREDIENTS: 2 cups plain flour 2 Tbsp caster sugar 125gm LURPAK unsalted butter, chopped 2 eggs ¼ cup almond meal 700gm firm but ripe stone fruit, thinly sliced** 2 Tbsp raw or demerara sugar Icing sugar and cream...