Steak Sandwich with Burnt Butter
RECIPE BY:
Matt Sinclair
INGREDIENTS :
2 Tbsp. Cobram Extra Virgin Olive Oil
1 Coles Beef Porterhouse Steak
1 Turkish roll
2 leaves baby cos
1 small brown onion, finely sliced
1 tsp. cumin seeds
1 medium bulb beetroot, peeled and julienned
½ cup malt vinegar
¼ cup brown sugar
¼ water
Salt
Burnt butter hollandaise
200 gm unsalted butter
2 egg yolks
2 Tbsp. Apple cider vinegar
2 tsp. hot English mustard
Pinch sea salt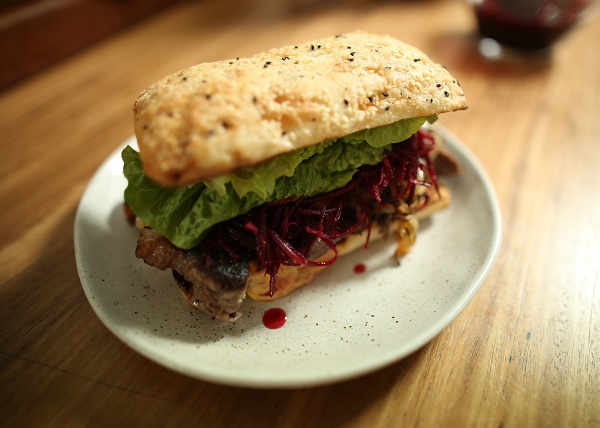 METHOD :
Burnt Butter Hollandaise:
Melt butter down in a small saucepan over medium-high heat. Cook until butter becomes foamy and caramelised with a nutty aroma, approximately 5 minutes.
In a medium bowl, combine egg yolks, vinegar, mustard and a pinch of sea salt and whisk together until smooth.
Slowly drizzle burnt butter into egg mixture, whisking continuously to emulsify. Consistency should resemble mayonnaise,  adjust seasoning if necessary.
Steak Sandwich:
In a small saucepan, add vinegar, sugar, water and a pinch of salt and bring to the boil over medium-high heat. Remove from heat once sugar has completely dissolved. Pour over julienned beetroot; cover completely and mix to combine. Set aside for approximately 10 minutes. Strain off.
In a frypan over medium-high heat, add olive oil, onions and cumin seeds and cook until caramelised. Transfer to a small bowl and set aside.
Season steak generously with sea salt. Return frypan to a medium high heat. When pan is hot, add steak and cook one side until caramelised, approximately 3-4 minutes. Turn steak over and cook for a further 2 minutes until medium. Rest steak off the heat for 3-4 minutes. Slice into 1 cm strips.
Preheat oven to 220C. Cut Turkish bread in half and place cut side down in frypan to soak up juices.  Place in oven and heat until slightly toasted.
Assemble sandwich with a generous spread of hollandaise on the base, followed by caramelised onions, steak, pickled beets, baby cos and top of Turkish roll.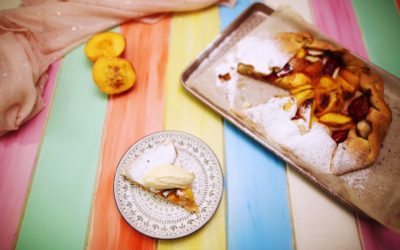 RECIPE BY: Matt Sinclair SERVING SIZE: 2 - 4 people INGREDIENTS: 2 cups plain flour 2 Tbsp caster sugar 125gm LURPAK unsalted butter, chopped 2 eggs ¼ cup almond meal 700gm firm but ripe stone fruit, thinly sliced** 2 Tbsp raw or demerara sugar Icing sugar and cream...