RECIPE BY:
Matt Sinclair
SERVING SIZE:
2 – 4 people
INGREDIENTS:
1 cup oats
1 cup Coles plain flour
1 cup shredded coconut
2/3 cup Coles brown sugar
1 egg, lightly beaten
¼ cup golden syrup
½ cup coconut oil
½ tsp. BiCarb soda
1 tsp. salt.
1 litre coconut sorbet
METHOD:
Preheat oven to 180C (Fan forced). Line two baking trays with baking paper and set aside.
In a large mixing bowl combine oats, flour, coconut and brown sugar. Add egg, the golden syrup and coconut oil and mix until combined. Add in the bi carb soda and stir to combine all ingredients and season with salt.
Take 2 tablespoons of mixture and form a small circle in your hand, place onto prepared baking tray and repeat with remaining mixture. Ensure there is enough space between each on the tray to allow them to expand. Bake in the oven for 12 minutes. Remove and allow to cool slightly before transferring to a wire rack to cool completely.
To assemble, place 1 scoop of coconut sorbet onto the underside of a biscuit. Working quickly, take another biscuit and sandwich the sorbet, pressing them together to evenly distribute the sorbet out to the edges. Place in the freezer until needed.
Our friends at Wine Selectors recommend pairing this dish with a Fortified Topaque to match the sweetness and the richness of the golden syrup.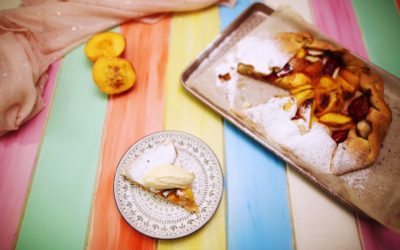 RECIPE BY: Matt Sinclair SERVING SIZE: 2 - 4 people INGREDIENTS: 2 cups plain flour 2 Tbsp caster sugar 125gm LURPAK unsalted butter, chopped 2 eggs ¼ cup almond meal 700gm firm but ripe stone fruit, thinly sliced** 2 Tbsp raw or demerara sugar Icing sugar and cream...