RECIPE BY:
Olivia Wells
SERVING SIZE:
2 – 4 people
INGREDIENTS:
280gm Self raising flour
150gm brown sugar
1 tsp cinnamon
200gm grated carrot
150 gm shredded coconut
2 eggs
200ml Cobram Estate Classic EVOO
¼ cup coconut cream
COCONUT CREAM CHEESE:
150gm Philadelphia cream cheese, softened
100gm LURPAK unsalted butter, softened
60ml coconut cream
1 cup icing sugar
1 cup shredded coconut, toasted (garnish)
Zest and juice of 1 lemon
METHOD:
Preheat oven to 180C and lightly grease a 12 hole muffin tray.
In a large mixing bowl, add the flour, carrot and coconut and mix to combine. Create a well in the middle.
In a smaller bowl, whisk the eggs, EVOO, sugar and cinnamon. Mix to combine and pour into the well of the larger bowl. Fold ingredients into each other and add coconut cream. Fold until incorporated. Spoon into the muffin holes and place into the oven to bake for 25-30 minutes, or until a skewer inserted in the centre comes out clean. Allow to cool completely.
Meanwhile, make the cream cheese icing. In a mixing bowl using an electric mixer or beaters, beat the cream cheese, butter, lemon juice and zest and coconut cream together to combine. Sift in half of the icing sugar and beat on low to incorporate. Sift in the remaining icing sugar and beat until thickened. Cover and chill in the refrigerator until muffins have cooled completely. Slather on top of each muffin and sprinkle over the shaved toasted coconut.
Our friends at Wine Selectors recommend pairing this dish with a Botrytis Riesling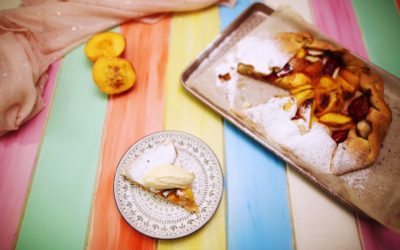 RECIPE BY: Matt Sinclair SERVING SIZE: 2 - 4 people INGREDIENTS: 2 cups plain flour 2 Tbsp caster sugar 125gm LURPAK unsalted butter, chopped 2 eggs ¼ cup almond meal 700gm firm but ripe stone fruit, thinly sliced** 2 Tbsp raw or demerara sugar Icing sugar and cream...