RECIPE BY:
Matt Sinclair
SERVING SIZE:
4 people
INGREDIENTS :
5 Coles Large Granny Smith Apples, peeled and cored, cut into 2 inch pieces
75 gm Ballantyne Unsalted Butter
75 gm rolled oats
50 gm brown sugar
50 gm shaved coconut
50 gm plain flour
1 tsp Chinese 5 spice
pinch salt
1/3 cup caster sugar
50 gm Ballantyne Unsalted Butter
METHOD :
Preheat oven to 180C.
In a food processor, blitz together butter, oats, brown sugar, coconut, flour, 5 spice and salt on high into a biscuit crumb. Lay out onto a flat baking tray, and bake for 20 minutes or until golden brown. Check crumb at 5 minute intervals to ensure even cooking. Once crumble is out of the oven, turn oven to grill setting.
In a pan over a medium-high heat, bring caster sugar to a caramel. Add butter and emulsify. Add apples and coat evenly in caramel. Cover and steam apples for 3-4 minutes.
Top apple caramel mixture with an even coating of crumble. Place pan in under grill and toast crumble to your liking. (I like a few burnt bits!)
Serve with boozy custard or vanilla ice-cream.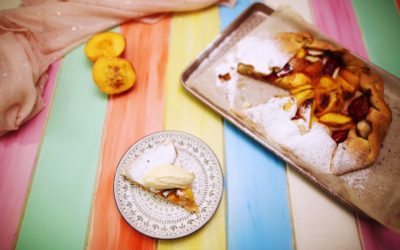 RECIPE BY: Matt Sinclair SERVING SIZE: 2 - 4 people INGREDIENTS: 2 cups plain flour 2 Tbsp caster sugar 125gm LURPAK unsalted butter, chopped 2 eggs ¼ cup almond meal 700gm firm but ripe stone fruit, thinly sliced** 2 Tbsp raw or demerara sugar Icing sugar and cream...