RECIPE BY:
Matt Sinclair
SERVING SIZE:
2 – 4 people
INGREDIENTS:
1.5 cups rolled oats
1/2 cup sliced natural almonds
1/4 cup pepitas
1/4 cup sunflower seeds
1/3 cup golden raisins
1 tsp ground cinnamon
Sea salt
1 Granny smith apple, grated
400ml cloudy apple juice
Jalna Greek Yoghurt, to serve
Sliced apple and almonds, to serve
Toasted coconut flakes
METHOD:
In a large bowl mix the oats, nuts and seeds, coconut flakes, raisins and cinnamon together and season with a small pinch of salt. Add the grated apple and juice and mix well to incorporate. Cover and allow to soak in the refrigerator overnight, or for a minimum of 1 hour.
Divide into serving bowls, add a dollop of Greek yoghurt and garnish with desired toppings (eg. Apple/nuts/coconut/mint).
Our friends at Wine Selectors recommend pairing this dish with a Botrytis Semillon.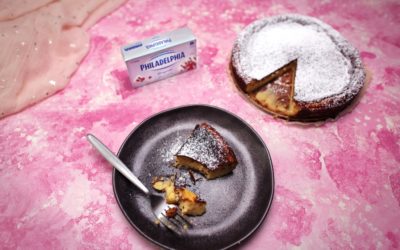 RECIPE BY: Courtney Roulston SERVING SIZE: 2 - 4 people INGREDIENTS: 500g Philadelphia cream cheese, room temperature 4 large eggs 1 ½ cup caster sugar 300ml Coles thickened cream 1 tablespoon plain flour 1 tablespoon lemon zest 2 tablespoons lemon juice icing sugar...