RECIPE BY:
Matt Sinclair
SERVING SIZE:
2 – 4 people
INGREDIENTS:
1 Tbsp butter
2 Granny smith Apples, peeled, cored, diced
2 Tbsp raisins
1/4 cup brown sugar
1 tsp mixed spice
Salt
1/3 cup caster sugar
1 Tbsp ground cinnamon
Puff pastry
Vanilla ice cream, to serve
METHOD:
Heat the butter in a medium pan over a medium heat until foaming. Add the apples and raisins and cook, stirring for 1-2 minutes to soften slightly. Add the brown sugar, mixed spice and a small pinch of salt. Cook, stirring often for 7-8 minutes or until apples are fork tender and caramelised. Remove from the heat and allow to cool.
Create 8 discs from the Puff Pastry. Use a small bowl as a template to cut around. Place the discs on a baking tray lined with baking paper.
Next, scoop a small bundle and place in the centre of the pastry, careful not to overfill. With another piece of pastry, stretch out gently and place on the top like a lid. Make sure to push all air out as you seal it, then press the edges with a fork to clamp it closed. Brush with egg yolk, sprinkle with castor sugar and cinnamon and put into the oven for 20-25 minutes until golden brown.
Serve with vanilla ice-cream and enjoy!
Our friends at Wine Selectors recommend pairing this dish with a Botrytis Semillon.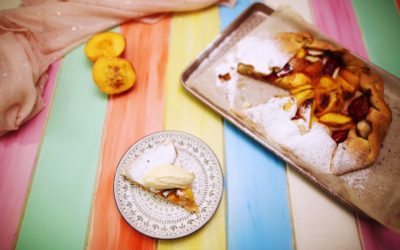 RECIPE BY: Matt Sinclair SERVING SIZE: 2 - 4 people INGREDIENTS: 2 cups plain flour 2 Tbsp caster sugar 125gm LURPAK unsalted butter, chopped 2 eggs ¼ cup almond meal 700gm firm but ripe stone fruit, thinly sliced** 2 Tbsp raw or demerara sugar Icing sugar and cream...