RECIPE BY:
Steve Flood w. Matt Sinclair
SERVING SIZE:
2 – 4 people
INGREDIENTS:
APPLE FILLING:
6 granny smith apples, peeled, cored and chopped into 1.5cm dice
zest and juice of 2 lemons
3 tablespoons brown sugar
1 tablespoon salted butter
1 teaspoon ground cinnamon
1⁄4 teaspoon freshly grated nutmeg
75ml water
CRUMBLE:
150g plain flour
100g unsalted butter
100g brown sugar
100g rolled oats
BUTTERSCOTCH SAUCE:
125g caster sugar
300 ml double cream
65g unsalted butter, cut into small dice
1 tbsp water
300ml rum & raisin ice-cream
4 sheets of shortcrust pastry, frozen
METHOD:
Preheat the oven to 180°C.
Place the apple, lemon zest and juice, brown sugar, cinnamon and nutmeg in a large saucepan over medium heat and cook for 15–20 minutes until the apple softens. Add a little water if the mixture becomes too thick and is catching in the pan. Remove from the heat.
Remove the pastry from the freezer, separate the sheets and allow to few minutes for the pastry to soften. Line four 8cm tart tins with the pastry. Trim the edges, prick the base with a fork and blind-bake for 10-15 minutes until the pastry is golden brown. Remove from the oven and set aside to cool.
To make the crumble, combine the flour, butter, sugar, oats and a pinch of salt in a large bowl and, using your fingertips, work the ingredients into a coarse crumble. Place on a baking tray and bake in the oven for 15 minutes. (baked at the same time as the pastry).
For the butterscotch sauce, put the sugar into a heavy-based saucepan with 1 tbsp water and melt over low heat, tilting the pan occasionally so the sugar melts evenly. Increase the heat to medium and cook, without stirring, until it turns into a golden-brown caramel. Slowly pour in the cream, being careful as the hot caramel will spit. Turn the heat to low and let the caramel dissolve slowly into the cream. Remove from heat and whisk in the butter, a few pieces at a time.
Spoon in the apple filling and sprinkle on the crumble.
Serve the tarts with a scoop of rum and raisin ice cream on top and drizzle with butterscotch.
Our friends at Wine Selectors recommend pairing this dish with a Botrytis Semillon.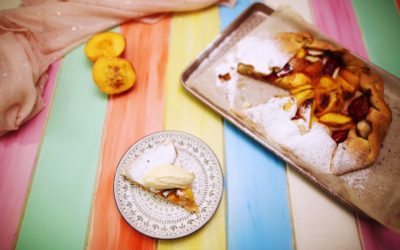 RECIPE BY: Matt Sinclair SERVING SIZE: 2 - 4 people INGREDIENTS: 2 cups plain flour 2 Tbsp caster sugar 125gm LURPAK unsalted butter, chopped 2 eggs ¼ cup almond meal 700gm firm but ripe stone fruit, thinly sliced** 2 Tbsp raw or demerara sugar Icing sugar and cream...