RECIPE BY:
Courtney Roulston
SERVING SIZE:
2 – 4 people
INGREDIENTS:
4 large ripe soft Coles Avocados, peeled & seeded
100ml Coconut Cream, refrigerated overnight
1/2 cup raw cup cacao powder
1 teaspoon vanilla bean paste
1/2 teaspoon sea salt flakes
8 medjool dates, pitted
1/3 cup pure maple Syrup
GARNISH:
1/2 cup slivered almonds, toasted
1/2 cup Shredded coconut, toasted
2 figs, quartered
1 cup fresh raspberries
1 cup blueberries
METHOD:
Place the avocado flesh, coconut cream, vanilla, salt, dates and maple syrup into the bowl of a food processor. Blend until smooth, scraping down the sides of the blender occasionally to ensure there are no lumps. Alternatively you can use a stick blender. Check for balance and add al little extra maple if needs sweetening.
Place the mousse into the refrigerator for 2 hours to firm.
To serve, garnish the mousse with almonds, coconut, raspberries and figs just before serving. Enjoy!
*You can serve any of your favorite dried or fresh fruits, nuts or seeds on top of the mousse.
Our friends at Wine Selectors recommend pairing this dish with a Late Harvest Viognier.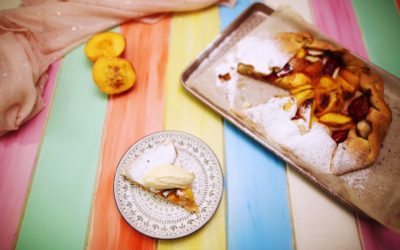 RECIPE BY: Matt Sinclair SERVING SIZE: 2 - 4 people INGREDIENTS: 2 cups plain flour 2 Tbsp caster sugar 125gm LURPAK unsalted butter, chopped 2 eggs ¼ cup almond meal 700gm firm but ripe stone fruit, thinly sliced** 2 Tbsp raw or demerara sugar Icing sugar and cream...