RECIPE BY:
Matt Sinclair
SERVING SIZE:
2 – 4 people
INGREDIENTS:
400ml milk
50gm hazelnut meal
100g Coles 70% dark chocolate, cut into small pieces
50g LURPAK unsalted butter, melted
3 Tbsp hazelnut spread
2 eggs
50g plain flour
2 Tbsp cocoa powder
110g caster sugar
METHOD:
Preheat oven to 160C and lightly grease a 1 Litre capacity ovenproof pan/tin.
Over a low heat in a saucepan, heat the milk and dark chocolate until the chocolate is melted.
Place all ingredients in a blender and blend until smooth and well incorporated, scrape down the sides of the blender if needed and blend to combine. Pour out into prepared pan and place in the oven to bake on a flat baking tray for 30-35 minutes or until set with a slight wobble in the centre. Remove and allow to cool slightly before serving with ice cream.
**It is called an impossible pudding/pie because it is very easy to put together and when baked it forms 3 separate layers; a crust on the base, a custard centre and a golden top.
Our friends at Wine Selectors recommend pairing this dish with a Liqueur Muscat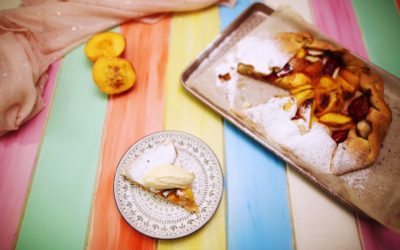 RECIPE BY: Matt Sinclair SERVING SIZE: 2 - 4 people INGREDIENTS: 2 cups plain flour 2 Tbsp caster sugar 125gm LURPAK unsalted butter, chopped 2 eggs ¼ cup almond meal 700gm firm but ripe stone fruit, thinly sliced** 2 Tbsp raw or demerara sugar Icing sugar and cream...