RECIPE BY:
Matt Sinclair
SERVING SIZE:
2 – 4 people
TIME:
30 mins
INGREDIENTS:
1 Sheet Coles Puff Pastry
2 medium ripe bananas
½ cup caster sugar
60ml rum
30 gm butter
Pinch sea salt flakes
½ tsp ground cinnamon
METHOD:
Preheat oven to 220C.
Peel and slice bananas into 4cm chunks. Place pastry over frypan and cut slightly larger in order to tuck the excess pastry under the bananas. Set aside.
Place caster sugar in a 20cm frypan over a medium heat. Bring to a golden caramel.
Once you have reached desired caramel colour, deglaze with rum and allow the alcohol to burn off, approximately 1 minute.
Add butter and whisk through caramel, add salt and cinnamon.
Place bananas into caramel, toss through until evenly coated and cover with pastry sheet, tuck edges under for a nice crunchy rim. Make a small incision in centre of pastry to allow steam to escape. (Option to brush with egg wash).
Bake for 15-20 minutes, until golden brown. Flip upside down onto a plate (be careful!)
Serve with coconut gelato!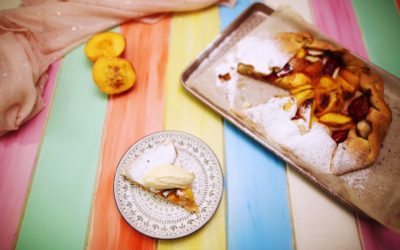 RECIPE BY: Matt Sinclair SERVING SIZE: 2 - 4 people INGREDIENTS: 2 cups plain flour 2 Tbsp caster sugar 125gm LURPAK unsalted butter, chopped 2 eggs ¼ cup almond meal 700gm firm but ripe stone fruit, thinly sliced** 2 Tbsp raw or demerara sugar Icing sugar and cream...