RECIPE BY:
Georgia Barnes
SERVING SIZE:
2 – 4 people
INGREDIENTS:
2 cups preserved morello cherries
2 cups morello cherry preserving syrup
2 cups fresh or frozen blackberries
600ml Coles thickened cream
200g Coles dark chocolate, finely chopped
50g Coles dark chocolate, shaved
METHOD:
To make the black forest syrup, place morello cherries and cherry syrup into a medium saucepan. Place over medium-high heat and bring to a simmer. Cook, stirring occasionally for 15 minutes or until syrup has reduced. Gently stir through blackberries. Set aside to cool.
To make the mousse, place a medium saucepan of water over high heat and bring to a simmer. Reduce to low heat. Place chocolate into a medium-sized heatproof bowl and carefully place on top of saucepan, ensuring the water is not touching the base of the bowl. Using a metal spoon, stir chocolate until almost melted. Remove from heat and continue to stir until smooth. Allow to cool to room temperature.
Pour cream into a mixing jug or bowl. Using a stick blender or electric beaters, whip cream to soft peaks. Reserve 1 cup of cream for serving.
Gently fold melted chocolate into whipped cream until just combined. Transfer mixture to a piping bag. Carefully pipe mousse into serving glasses. Refrigerate until ready to serve.
To serve, place generous spoonfuls of cream and black forest syrup into each glass. Top with shaved chocolate.
Our friends at Wine Selectors recommend pairing this dish with a Liqueur Muscat.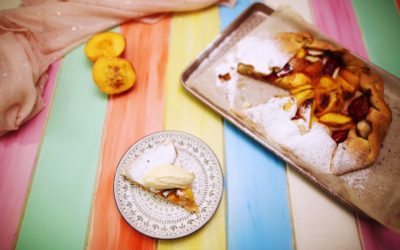 RECIPE BY: Matt Sinclair SERVING SIZE: 2 - 4 people INGREDIENTS: 2 cups plain flour 2 Tbsp caster sugar 125gm LURPAK unsalted butter, chopped 2 eggs ¼ cup almond meal 700gm firm but ripe stone fruit, thinly sliced** 2 Tbsp raw or demerara sugar Icing sugar and cream...