RECIPE BY:
Georgia Barnes
SERVING SIZE:
2 – 4 people
INGREDIENTS:
300ml full cream milk
3 tbsp raw honey
1 tbsp vanilla bean paste
3 gelatine leaves
200g Jalna greek yoghurt
300g seasonal fruit, sliced
100g granola [optional]
METHOD:
Whisk together milk, honey and vanilla in a small saucepan. Place over medium heat. Bring to a simmer and remove from heat.
Soften gelatine leaves in cold water. Squeeze excess water and whisk into hot milk. Allow to mixture to cool to room temperature.
Gradually whisk yoghurt into milk mixture until smooth.
Pour into dariole moulds or preferred serving glasses. Place in the refrigerator to set for 4 hours or overnight.
To serve, remove panna cotta from mould and place on a serving plate. Serve chilled with seasonal fruit and granola.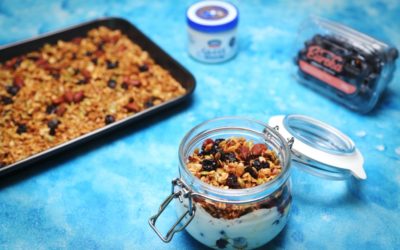 RECIPE BY: Michael Weldon SERVING SIZE: 2 - 4 people INGREDIENTS: 2 punnets of Coles Eureka blueberries 1 tub of Jalna Greek yoghurt honey GRANOLA: 2 cups of rolled oats ½ cup of sunflower kernels ½ cup dried cranberries ½ cup roasted almonds ½ cup coconut flakes ½...