RECIPE BY:
Matt Sinclair
SERVING SIZE:
6 people
INGREDIENTS :
1 cup Cobram Estate Light Extra Virgin Olive Oil
1 cup raw cacao powder
2 cups caster sugar
1/3 cup water (80ml)
3 cups plain flour
2 tsp. baking powder
1 tsp. vanilla bean extract
1 tsp. sea salt
5 cold eggs
1 cup cold milk
METHOD :
Preheat oven to 180C. Lightly grease a bundt pan with olive oil.
Combine cocoa powder, flour and baking powder in a bowl.
In a separate bowl whisk eggs and milk, before adding sugar, vanilla, and oil and combine well. Add dry mixture and stir until you have a nice smooth batter. Transfer your mixture to your greased bundt pan.
Place into the oven to bake for 45-50 minutes, until a skewer comes out clean. Remove from the oven and allow to cool slightly before turning out onto a cooling rack. Dust with icing sugar once cooled, if desired.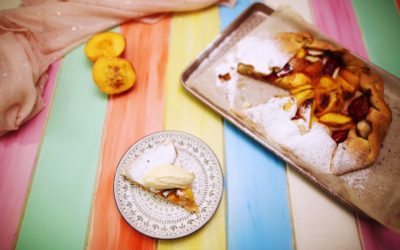 RECIPE BY: Matt Sinclair SERVING SIZE: 2 - 4 people INGREDIENTS: 2 cups plain flour 2 Tbsp caster sugar 125gm LURPAK unsalted butter, chopped 2 eggs ¼ cup almond meal 700gm firm but ripe stone fruit, thinly sliced** 2 Tbsp raw or demerara sugar Icing sugar and cream...