RECIPE BY:
Matt Sinclair
INGREDIENTS:
¼ Cup Cobram Estate Light Extra Virgin Olive Oil
2 eggs
1 tsp vanilla extract
Salt
1.5 cups brown sugar
80g milk chocolate
80g white chocolate
3 tbsp roasted peanuts, roughly chopped
1 tsp baking powder
2 cups plain flour
METHOD:
Preheat oven to 160C.
In a mixing bowl, combine ½ cup olive oil, one egg and one extra yolk, vanilla, a pinch of salt, brown sugar. Whisk together.
Roughly chop your chocolate, creating your own choc chips and add them into the mixture, along with the peanuts and baking powder. Mix through and then add plain flour. Bring all ingredients together and using your hands, work into a nice dough.
Sprinkle flour onto the bench and form dough into an even log.
Drizzle some oil onto a baking tray and place a sheet of baking paper on top. Cut cookie dough into equal portions and line them onto the tray, pressing down slightly on each individual piece.
Place tray into the oven and bake for 20 minutes.
Enjoy!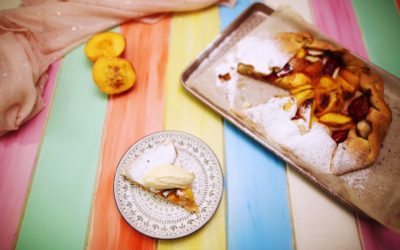 RECIPE BY: Matt Sinclair SERVING SIZE: 2 - 4 people INGREDIENTS: 2 cups plain flour 2 Tbsp caster sugar 125gm LURPAK unsalted butter, chopped 2 eggs ¼ cup almond meal 700gm firm but ripe stone fruit, thinly sliced** 2 Tbsp raw or demerara sugar Icing sugar and cream...