RECIPE BY:
Matt Sinclair
SERVING SIZE:
2 – 4 people
INGREDIENTS:
170gm plain flour
170gm caster sugar, plus 2Tbsp extra
Salt
3 eggs
60ml milk
1 tsp vanilla extract
170gm LURPAK salted butter, softened
4 peaches, roughly diced **
1 tsp ground cinnamon
METHOD:
Preheat oven to 160C. Lightly grease a 20x30cm baking tin and line with greaseproof paper with a 2cm over hang on the longer sides.
Sift the flour into a large mixing bowl and add the butter. Add in sugar and a small pinch of salt and stir to combine. Make a well in the centre.
In a separate bowl mix the eggs, milk and vanilla until evenly combined. Pour it into the well of the dry ingredients and beat together for 2-3 minutes, using a stand mixer or electric beaters, until smooth. Pour batter into the prepared baking tray and smooth out with a spatula.
Evenly scatter the peaches over the top of the batter and gently press into the batter. Place in the oven for 20 minutes. Combine the extra sugar and cinnamon and sprinkle evenly over the peach slice. Place back into the oven and bake for another 15 minutes, or until a skewer test comes out clean. Allow to cool in the baking tin for 5 minutes before removing it onto a wire rack using the overhang from the greaseproof paper. Cut into slices and serve warm or cold.
**If peaches aren't in season, use one 400gm tinned peaches in juice, well drained.
Our friends at Wine Selectorsrecommend pairing this dish with a Botrytis Viognier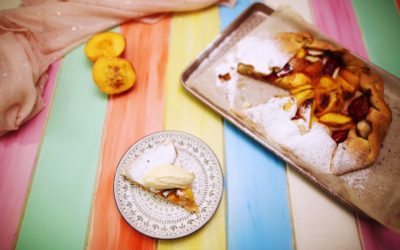 RECIPE BY: Matt Sinclair SERVING SIZE: 2 - 4 people INGREDIENTS: 2 cups plain flour 2 Tbsp caster sugar 125gm LURPAK unsalted butter, chopped 2 eggs ¼ cup almond meal 700gm firm but ripe stone fruit, thinly sliced** 2 Tbsp raw or demerara sugar Icing sugar and cream...