RECIPE BY:
Courtney Roulston
SERVING SIZE:
4 as a snack
INGREDIENTS :
1 tub ZoOSh Sour Cream & Chives Dip, to serve
1Kg boiled potatoes, skin on, chilled (Use Coles Carisma, Red Royal or washed potatoes)
½ bunch flat leaf parsley
20 baby cornichons (from a jar), drained
Olive oil for deep frying
BATTER:
1 Free range egg, chilled
200ml ice cold water
1 cup plain flour
METHOD :
Heat the oil to 160 degrees C.
Slice the potatoes into 1cm thick scallops.
Sift the flour into a large bowl. Whisk the chilled egg into the chilled water, then gently pour into the flour, whisking in a figure 8 motion as you pour using chopsticks. Do not over mix and leave some lumps in the batter.
Gently dip the potatoes into the batter and fry in batches until crispy. Make sure not to overcrowd the oil, as the temperature will drop and your potatoes will be soggy. Repeat with remaining potatoes and drain on kitchen paper. Gently coat the parsley stems in the batter and fry until crispy.
To serve arrange the potatoes and parsley onto a serving platter and season with sea salt flakes. Garnish with the cornichons and serve with Zoosh Sour Cream & Chives Dip.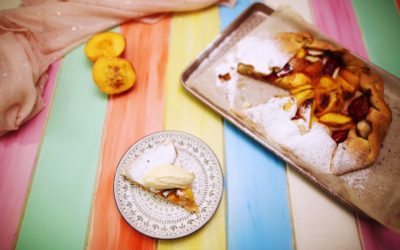 RECIPE BY: Matt Sinclair SERVING SIZE: 2 - 4 people INGREDIENTS: 2 cups plain flour 2 Tbsp caster sugar 125gm LURPAK unsalted butter, chopped 2 eggs ¼ cup almond meal 700gm firm but ripe stone fruit, thinly sliced** 2 Tbsp raw or demerara sugar Icing sugar and cream...