RECIPE BY:
Michael Weldon
TIME:
Prep time: 20-25 mins
Dulce de leche: 4 hrs
Crumble baking time: 15-20 mins

INGREDIENTS:
2 packets 395g Brandcourts Sweetened Condensed Milk Squeeze Pack
1 tin of lychee in syrup, lychees broken up into chunks
1 Jime, juice and lime
1 tsp chilli flakes
1 tub of vanilla ice cream
1 pineapple, cut into strips
300g plain flour
150g Ballantyne Rolled Salted Butter, at room temperature
150g brown sugar
METHOD:
Squeeze 2 packets for Brandcourts Sweetened Condensed Milk into a jar and place it into a pot of boiling water and leave it to caramelize for 4 hours or until it turns into a nice golden brown colour. When it's ready, using a tea towel, remove the jar from the heat, holding it at the bottom with another tea towel and place on the bench.
Preheat oven to 190C. To prepare your crumble, combine the dry ingredients – flour and brown sugar – in a mixing bowl with your hands and then work the butter into the mix until you have a breadcrumb-like consistency. Line baking paper onto an oven tray and spread the crumble evenly. Bake for 15-20 minutes, until golden brown and the butter has melted. Take it out of oven and allow the crumble to cool down by breaking it into various sized chunks in a bowl.
While the crumble is baking, on a hot grill pan, char the pineapple on each side for 3-4 minutes until it softens and you've got those beautiful char marks on them. Remove from heat and allow to cool down.
In a serving bowl, start with a layer of crumble, breaking it into smaller pieces, place a quenelle of ice cream over the top and surround it with thin slices of charred pineapple and lychee pieces. Finish with a generous serving of your homemade dulce de leche (caramel sauce).
Enjoy!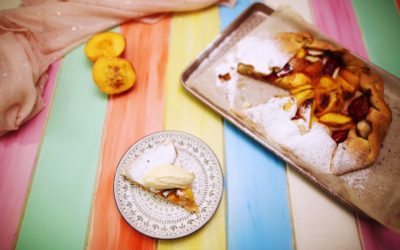 RECIPE BY: Matt Sinclair SERVING SIZE: 2 - 4 people INGREDIENTS: 2 cups plain flour 2 Tbsp caster sugar 125gm LURPAK unsalted butter, chopped 2 eggs ¼ cup almond meal 700gm firm but ripe stone fruit, thinly sliced** 2 Tbsp raw or demerara sugar Icing sugar and cream...