RECIPE BY:
Matt Sinclair
SERVING SIZE:
2 – 4 people
INGREDIENTS:
100gm Coles plain flour
1¼ cup Coles caster sugar
1 tsp mixed spice
160ml full cream milk
3 eggs
Zest of 1 lemon
25gm LURPAK salted butter
2 Tbsp. pistachios, roughly chopped
4 figs, sliced
¼ cup Greek yoghurt (optional, for serving)
2 Tbsp maple syrup
METHOD:
Preheat oven to 200C.
Combine the flour, sugar, spice, milk, eggs and lemon zest in a food processor and blitz until well combined. Set aside for 10 minutes.
Heat a 20cm oven-proof frying pan over a medium heat and melt the butter, cook until foaming. Ensure the base and sides are covered with butter. Remove from the heat and carefully pour in the batter. Bake for 20-25 minutes or until puffed, golden and just set. The centre will likely collapse once removed from the oven. Remove pan carefully from the oven and allow to cool slightly.
Meanwhile, place the pistachios on a baking tray in the oven until lightly toasted.
Garnish with fresh fig slices, toasted pistachios, yoghurt and a drizzle of maple syrup. Serve immediately.
Our friends at Wine Selectors recommend pairing this dish with a Late Harvest Riesling.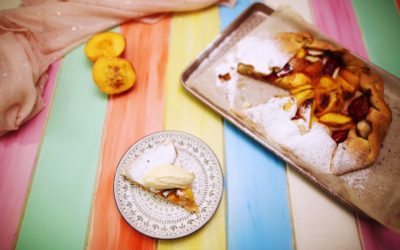 RECIPE BY: Matt Sinclair SERVING SIZE: 2 - 4 people INGREDIENTS: 2 cups plain flour 2 Tbsp caster sugar 125gm LURPAK unsalted butter, chopped 2 eggs ¼ cup almond meal 700gm firm but ripe stone fruit, thinly sliced** 2 Tbsp raw or demerara sugar Icing sugar and cream...