RECIPE BY:
Michael Weldon

INGREDIENTS :
6 Coles Gingerbread Men
250g Mascarpone Cheese
600mls Cream
3 Mangos, sliced into bite sized pieces
1 punnet of Blueberries
500mls Coles Custard in a carton
1 block of Coles Belgian White chocolate
Zest of 1 lime
GINGER JELLY:
400mls ginger ale
100mls sugar syrup
Zest of 1 lime, juice of 2
5 x Gold Leaf Gelatin
METHOD :
Combine 300ml of Ginger ale, sugar syrup and limes. In a bowl over a pot of boiling water, dissolve the gelatin with the ginger ale mixture. Once melted strain into a jug to remove anything that hasn't dissolved. Refrigerate for 2 hours or until set.
In a stand mixer, combine Mascarpone and cream and whip until soft peaks form.
Soak the ginger bread men in the remaining Ginger ale and stick them to the inside of the bowl in a decorative style. Fill the bowl with ½ of the cream mixture, then put the ginger jelly on top. In a small bowl combine mangoes, blueberries and zest of 1 lime. Add that to the next layer of trifle, followed by a layer of custard and a layer of whipped cream.
Place in the fridge for a minimum of 2 hours.
Grate white chocolate over the top before serving.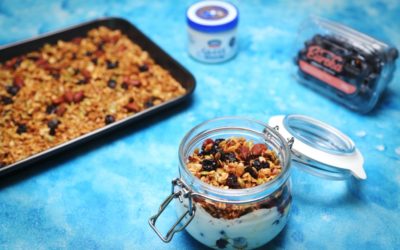 RECIPE BY: Michael Weldon SERVING SIZE: 2 - 4 people INGREDIENTS: 2 punnets of Coles Eureka blueberries 1 tub of Jalna Greek yoghurt honey GRANOLA: 2 cups of rolled oats ½ cup of sunflower kernels ½ cup dried cranberries ½ cup roasted almonds ½ cup coconut flakes ½...