RECIPE BY:
Michael Weldon
SERVING SIZE:
2 – 4 people
INGREDIENTS:
Dough
150g plain flour
150g bread (strong) flour
3g dry yeast
200mL warm water
10mL Cobram Estate classic Extra Virgin Olive Oil
Pinch of sea salt
Extra plain flour or semolina flour for working dough
Topping
1 punnet of Coles Taste n See strawberries, quartered
2tbs Lurpak salted butter, melted
2-3 tbs Coles hazelnut spread
Coles Vanilla ice-cream, to serve
Icing sugar, to serve
METHOD:
To prepare dough:
Add yeast and olive oil to the warm water and stir well to combine.
In a large mixing bowl, combine flour and salt. Add water, olive oil and yeast mixture and work through to form dough. Work dough into a ball and leave in mixing bowl, covered and placed somewhere warm, for two hours. Dough should double in size.
To prepare pizza:
Preheat a fan-forced oven to 250 degrees with grill on. Place pizza tray in oven to preheat as well.
Cover workspace with a pinch of semolina flour. Take the dough from mixing bowl. Using your hands, gently work dough into a pizza base.
Place pizza base onto pre-heated pizza tray. Brush pizza base with melted butter and put into oven for a few minutes, or until pizza base has begun to rise and is beginning to turn golden.
Take pizza base out and cover top with hazelnut spread. Top with strawberries and put into the oven again, for 2-3 minutes, or until strawberries begin to soften.
Take pizza out of oven. Dust with icing sugar and top with a large scoop of vanilla ice-cream. Serve.
Our friends at Wine Selectors recommend pairing this dish with a Chilled Tawny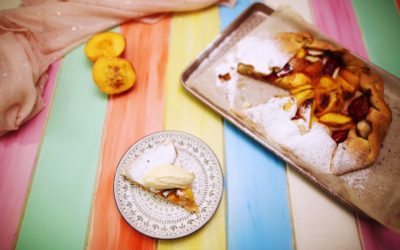 RECIPE BY: Matt Sinclair SERVING SIZE: 2 - 4 people INGREDIENTS: 2 cups plain flour 2 Tbsp caster sugar 125gm LURPAK unsalted butter, chopped 2 eggs ¼ cup almond meal 700gm firm but ripe stone fruit, thinly sliced** 2 Tbsp raw or demerara sugar Icing sugar and cream...