RECIPE BY:
Matt Sinclair
INGREDIENTS:
120 gm Ballantyne Rolled Unsalted Butter, softened
2 cups fine yellow semolina
½ cup Coles Finest Red Gum Honey
1 cup caster sugar
2 eggs, separated
½ cup milk
½ tsp vanilla extract
1 tsp baking powder
½ tsp baking soda
pinch salt
1 cup sugar
1 cup water
Zest of 1 lemon
1 inch piece ginger, sliced
METHOD:
Preheat oven to 180C. Grease a 30cm x 20cm baking tray and line with baking paper. Lightly grease baking paper.
Cream butter and sugar in a mixer on medium speed until pale and fluffy. Slowly add eggs yolks one at a time and carefully pour in milk. Add vanilla and mix to combine. The batter should look slightly separated, which is okay at this point.
In a separate bowl, add semolina, baking powder, baking soda and salt and mix to combine. On a low speed, gently add dry mixture to the wet mixture and beat on medium speed until smooth.
Beat egg whites with a hand mixer until soft peaks form. Gently fold into cake batter, careful not to knock out any air.
Pour batter into lined tray and bake for 20-25 minutes, until golden brown and firm to touch.
Whilst cake is in the oven combine sugar, honey, water, ginger and zest in a small saucepan and bring to the boil over a medium-high heat. Reduce heat and simmer for 10 minutes. Remove ginger pieces.
Pour syrup over cake as soon as it is removed from the oven.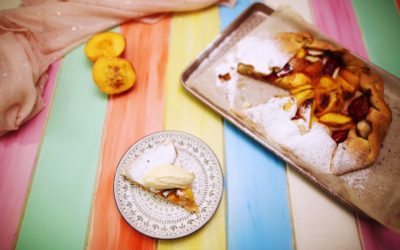 RECIPE BY: Matt Sinclair SERVING SIZE: 2 - 4 people INGREDIENTS: 2 cups plain flour 2 Tbsp caster sugar 125gm LURPAK unsalted butter, chopped 2 eggs ¼ cup almond meal 700gm firm but ripe stone fruit, thinly sliced** 2 Tbsp raw or demerara sugar Icing sugar and cream...