RECIPE BY:
Matt Sinclair
SERVING SIZE:
2 – 4 people
INGREDIENTS:
65g honey
18g bi-carb soda
415 g caster Sugar
150g glucose Syrup
70g water
METHOD:
Line a 20cm-baking tray with baking paper.
Pour honey, caster sugar, glucose syrup and water into a large pot and combine.
Put pot over a stove and boil until contents reach 160 degrees on a sugar thermometer (8-10 minutes), and is an even amber in colour.
Take of heat and whisk bi-carb soda through until honeycomb starts to rise. Immediately pour into baking tin and set aside to cool for 30 minutes or until completely cool. Be very careful, as honeycomb will be extremely hot.
Once cooled, honeycomb should be hard and can be broken up to serve with ice-cream, chocolate or whatever you choose!
Our friends at Wine Selectors recommend pairing this dish with a Botrytis Semillon.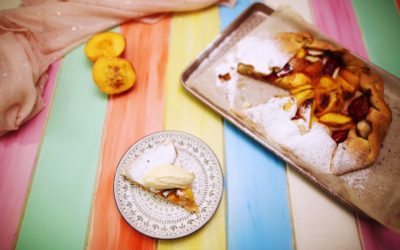 RECIPE BY: Matt Sinclair SERVING SIZE: 2 - 4 people INGREDIENTS: 2 cups plain flour 2 Tbsp caster sugar 125gm LURPAK unsalted butter, chopped 2 eggs ¼ cup almond meal 700gm firm but ripe stone fruit, thinly sliced** 2 Tbsp raw or demerara sugar Icing sugar and cream...