Japanese Cotton Cheesecake

RECIPE BY:
Matt Sinclair
INGREDIENTS :
250gm cream cheese
50g Ballantyne Rolled Cultured Style Unsalted Butter
100ml milk
60gm 00 flour
20gm corn flour
½ tsp salt
1/3 cup fresh lime juice
6 egg yolks
6 egg whites
¼ tsp cream of tartar
140gm caster sugar
METHOD :
Preheat fan forced oven to 130C/conventional oven 160C. Lightly grease an 8-inch spring form pan and lin the base with baking paper.
In a medium saucepan, bring an inch of water up to a simmer and place a heatproof bowl on top to cover. Add the cream cheese, butter and milk. Stir continuously until well combined and the butter and cheese has melted. Set aside and allow to cool.
Once cream cheese mixture has cooled add in flour, cornflour, salt, lime juice and egg yolks and gently whisk to combine, ensuring there are no small lumps remaining.
In a stand mixer add the egg whites and cream of tartar and lightly beat until foamy, approximately 3-4 minutes. Pour in sugar and beat until soft peaks form.
Transfer 1/3 of egg white mixture into cream cheese and gently fold through. Repeat with another 1/3. Finally, Pour the cream cheese mixture into the remaining 1/3 of meringue and very gently fold through to combine.
Transfer to prepared cake tin and bake in the oven for 1 hour and 30 minutes. Allow the cake to rest in the oven with the door open to avoid a sudden change in temperature. Allow to cool.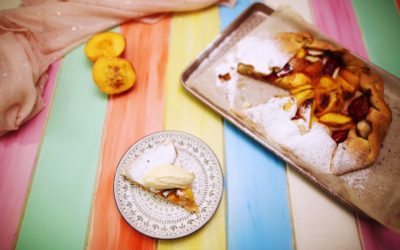 RECIPE BY: Matt Sinclair SERVING SIZE: 2 - 4 people INGREDIENTS: 2 cups plain flour 2 Tbsp caster sugar 125gm LURPAK unsalted butter, chopped 2 eggs ¼ cup almond meal 700gm firm but ripe stone fruit, thinly sliced** 2 Tbsp raw or demerara sugar Icing sugar and cream...