RECIPE BY:
Matt Sinclair
SERVING SIZE:
2 – 4 people
INGREDIENTS:
3 eggs
½ cup caster sugar
125ml milk
1 tsp vanilla extract
1 cup self-raising flour, sifted
120gm Lurpak unsalted butter, melted
ICING
2 cups icing sugar
3 Tbsp Dutch cocoa powder
1/3 cup boiling water
½ tsp butter
400gm shredded coconut
METHOD :
Preheat oven to 180C. Line a 20cm x 30cm baking dish with baking paper.
In a stand mixer, using the whisk attachment, beat the eggs on high and gradually add the sugar.
Whisk until sugar has dissolved. Pour in the milk and vanilla and whisk to combine.
Remove from stand mixer and sift in the flour. Gently stir the flour through the mixture until combined. Add the butter and gently fold through. Pour into prepared baking tray and place in the oven for 30-35 minutes or until lightly golden on the top.
Remove and allow to cool in the tin slightly before turning out onto a wire rack to cool completely. Use a serrated knife to cut into 20 squares.
Prepare chocolate icing by sifting the icing sugar and cocoa powder into a large mixing bowl. Add the water and butter and mix to combine until smooth and silky.
Spread a little of the coconut on a baking tray. Use two forks to handle each piece of sponge, first coating them in the chocolate icing and then transferring to the coconut. Turn to coat each piece evenly and transfer back to the wire rack to set.
Repeat with remaining sponge, adding fresh coconut to the baking tray when needed.
Store in an air tight container for 3-4 days.
Our friends at Wine Selector suggest that a Chilled Tawny would go perfectly with this dish.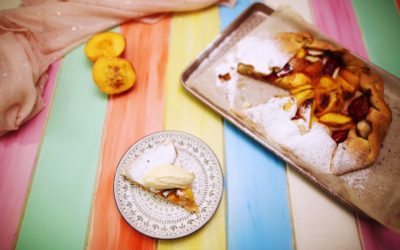 RECIPE BY: Matt Sinclair SERVING SIZE: 2 - 4 people INGREDIENTS: 2 cups plain flour 2 Tbsp caster sugar 125gm LURPAK unsalted butter, chopped 2 eggs ¼ cup almond meal 700gm firm but ripe stone fruit, thinly sliced** 2 Tbsp raw or demerara sugar Icing sugar and cream...