Lemon Cheesecake with Tangelo

RECIPE BY:
Matt Sinclair
SERVING SIZE:
10 people

INGREDIENTS :
200g Marie biscuits
75g unsalted butter, melted and cooled
600g full-fat cream cheese at room temperature
200g caster sugar
200ml sour cream
3 large free-range eggs
1 tsp vanilla extract
Finely grated zest 2 lemon, juice 1
50g plain flour for the candied tangelo
2 tangelos, sliced cross sections
1⁄2 cup sugar
TANGELO JAM:
Zest of 3 tangelos
Flesh of 4 tangelos
1⁄2 cup sugar
2 tbsp water
A squeeze of lemon juice
METHOD :
For the base of the cheesecake, blitz the Marie biscuits and melted butter in a food processor to form fine crumbs. Pour the mixture into the base of a 20cm loose bottomed cake tin in an even layer and pack it in, smoothing it down using the back of a soup spoon. Chill until needed.
Heat the oven to 180°C. For the filling, mix the room temperature cream cheese, caster sugar
and soured cream together in a mixing bowl with an electric mixer until smooth. Gently beat in
the eggs, one at a time, then add the vanilla extract and lemon zest and juice. Mix in the flour
and whisk until smooth. Spoon the mixture over the chilled biscuit base, then level the top.
Bake for 50-60 minutes until the top is lightly golden and set at the edges but the middle still has a good wobble when the cheesecake is shaken gently. Remove from the oven and leave to cool completely before removing from the tin.
Reduce the heat of the oven to 120°C
For the candied tangelo, heat the sugar and water in a saucepan until sugar dissolves. Add in the tangelo slices and let it simmer for 20 mins.Remove the tangelo slices and place onto a lined baking tray. Sprinkle over some caster sugar and place in the oven and dehydrate for 20 mins.
For the tangelo jam, slice the zest into thin strips and cut the flesh into smaller pieces.
Blanch the zest in a pot of boiling water for 30 seconds. Remove and strain and do it another
This helps remove the bitterness from any pith.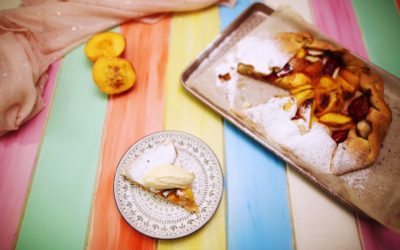 RECIPE BY: Matt Sinclair SERVING SIZE: 2 - 4 people INGREDIENTS: 2 cups plain flour 2 Tbsp caster sugar 125gm LURPAK unsalted butter, chopped 2 eggs ¼ cup almond meal 700gm firm but ripe stone fruit, thinly sliced** 2 Tbsp raw or demerara sugar Icing sugar and cream...