RECIPE BY:
Matt Sinclair
SERVING SIZE:
2 – 4 people
INGREDIENTS:
75gm Lurpak unsalted butter
200gm caster sugar
Zest and juice of 2 lemons
Juice of 2 mandarins
4 eggs, separated
75gm self-raising flour
350ml milk
¼ tsp salt
¼ tsp cream of tartar
METHOD:
Preheat oven to 170C. Lightly grease a 1 Litre oven proof dish with butter.
In a stand mixer, add the butter, half of the sugar, and lemon zest and beat using a paddle mixer on a medium speed until light and creamy. Add the yolks in one at a time and beat to combine. Remove from the mixer and add the flour, lemon and mandarin juices, milk and salt. Fold through to combine.
In a clean mixing bowl, whisk the egg whites and cream of tartar to soft peaks. Add remaining sugar and beat well until stiff peaks form.
Add ½ of the egg white mixture to the lemon batter and gently fold through. Repeat with the remaining egg white and fold through until combined. Pour into prepared dish and place in the middle of a deep baking tray. Fill the baking tray with water, ½ way up the lemon pudding dish. Place in the oven for approximately 30 minutes, or until just set with a slight wobble in the centre. Allow to cool slightly before serving with pouring cream.
Our friends at Wine Selectors recommend pairing this dish with a Late Harvest Semillon.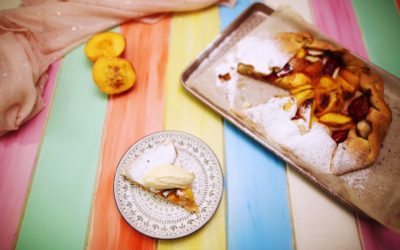 RECIPE BY: Matt Sinclair SERVING SIZE: 2 - 4 people INGREDIENTS: 2 cups plain flour 2 Tbsp caster sugar 125gm LURPAK unsalted butter, chopped 2 eggs ¼ cup almond meal 700gm firm but ripe stone fruit, thinly sliced** 2 Tbsp raw or demerara sugar Icing sugar and cream...