RECIPE BY:
Matt Sinclair
SERVING SIZE:
2 – 4 people
INGREDIENTS:
2 cups Jalna Biodynamic Yoghurt
Juice of ½ lemon
4 egg whites
1/3 cup honey
¼ tsp cream of tartar
Salt
1 just-ripe mango, thinly sliced
1/3 cup lightly toasted macadamias, roughly chopped
5-6 fresh mint leaves
METHOD :
Line a 2 Litre loaf pan with baking paper, leaving enough overhang to cover.
Whisk the yoghurt and lemon juice together in a mixing bowl and set aside.
In a separate clean mixing bowl, add the egg whites, honey, cream of tartar and a small pinch of salt (approx. 1/8 tsp) and place over a pot of simmering water (the water must not touch the base of the bowl). Stir continuously for approximately 2 minutes to evenly warm the egg white mixture. Remove from the heat and whisk with an electric mixer on medium-high speed until you have firm and glossy stiff peaks.
Add in two large spoonfuls of meringue to the yoghurt and whisk to combine. Add in further ½ of the meringue mixture and gently fold to combine. Repeat with remaining meringue and gently fold until fully incorporated.
Pour in ½ of the mixture into the prepared loaf tin, add a layer of sliced mango (reserving some to garnish) and top with remaining meringue. Smooth with a spatula and cover with the overhanging baking paper. Place in the freezer to set for a minimum of 4-6 hours, or overnight.
To serve, uncover and place the tin in a little warm water for a few second to loosen slightly. Place a serving platter over the top of the loaf tin and flip over to turn out. Peel off the baking paper and garnish with remaining mango, macadamias and finely chopped mint. Serve immediately.
Our friends at Wine Selectors recommend pairing this dish with a Botrytis Riesling.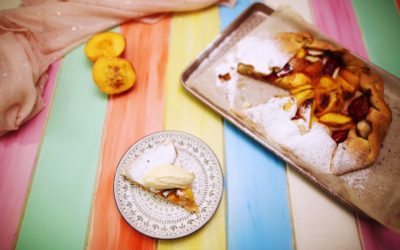 RECIPE BY: Matt Sinclair SERVING SIZE: 2 - 4 people INGREDIENTS: 2 cups plain flour 2 Tbsp caster sugar 125gm LURPAK unsalted butter, chopped 2 eggs ¼ cup almond meal 700gm firm but ripe stone fruit, thinly sliced** 2 Tbsp raw or demerara sugar Icing sugar and cream...