Mango, Passion Fruit & Kiwi Pavlova

RECIPE BY:
Michael Wheldon

INGREDIENTS :
1 Coles pavlova
500ml Cream, whipped
1 mango, sliced
2 golden kiwi, sliced
2 green kiwi, sliced
¼ cup toasted coconut
1 Coles gingerbread, crumbled
1 packet of Coles mini fruity meringues, crumbled
100g Almond praline, roughly chopped
LEMON CURD:
4 eggs (two whole, 2 yolks)
150g flour
80g cold butter
2 lemons (juice of)
METHOD :
In a saucepan on low heat, whisk together eggs and flour until warm and slightly thickened. Add butter and lemon juice and continually whisk together until the butter has melted and mixture thickens up. Remove from heat and store in the fridge until needed. (NOTE: allow to cool before dressing pavlova)
Coat the top of the pavlova with cream and then dollop the lemon curd on top of the cream. Decorate to your liking with mango, kiwis, coconut, passion fruit pulp, gingerbread and praline.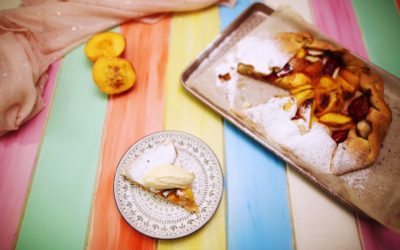 RECIPE BY: Matt Sinclair SERVING SIZE: 2 - 4 people INGREDIENTS: 2 cups plain flour 2 Tbsp caster sugar 125gm LURPAK unsalted butter, chopped 2 eggs ¼ cup almond meal 700gm firm but ripe stone fruit, thinly sliced** 2 Tbsp raw or demerara sugar Icing sugar and cream...