RECIPE BY:
Matt Sinclair
SERVING SIZE:
2 – 4 people
INGREDIENTS:
200gm LURPAK unsalted butter, softened
¾ cup icing sugar
1 cup biscuit flour
1 cup cornflour
½ tsp baking powder
ICING
1 cup icing sugar
½ tsp vanilla bean extract
1 tsp LURPAK unsalted butter, softened
Boiled water
METHOD:
Preheat oven to 180C. Line 2 baking trays with grease proof paper.
In a stand mixer, cream the butter and icing sugar until light and fluffy. Remove from the mixer and sift in both flours and baking powder. Mix until well combined.
Take a small amount of dough and roll into a ball (just smaller than a golf ball). Place onto prepared baking tray and repeat with remainder of the dough. Lightly flour the back of a fork and gently press down in the centre of each ball to flatten slightly. Place in the oven to bake for 20 minutes. Remove and allow to cool slightly on the baking tray before transferring to a wire rack to cool completely.
Meanwhile, make the icing. In a mixing bowl, add the icing sugar, vanilla and butter and add a small amount of water. Whisk to combine. Add a little more water, whisking, until you have a spreadable consistency.
When biscuits have cooled completely, spread a small amount of icing onto a biscuit and sandwich together with another.
WINE MATCH:
Our friends from Wine Selectors suggest pairing these with Moscato as it is light and fresh with a gentle sweetness.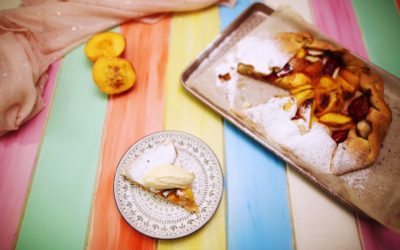 RECIPE BY: Matt Sinclair SERVING SIZE: 2 - 4 people INGREDIENTS: 2 cups plain flour 2 Tbsp caster sugar 125gm LURPAK unsalted butter, chopped 2 eggs ¼ cup almond meal 700gm firm but ripe stone fruit, thinly sliced** 2 Tbsp raw or demerara sugar Icing sugar and cream...