RECIPE BY:
Matt Sinclair
SERVING SIZE:
2 – 4 people
INGREDIENTS:
1 ½ cups cream
¾ cup full cream milk
2 eggs, plus 2 yolks
75gm caster sugar
1 tsp vanilla paste
1 pre-formed shortcrust pastry case (in foil pan)
½ tsp Coles ground nutmeg
METHOD:
Preheat oven to 140C.
Place the tart case in the oven for 10 minutes to start the cooking process.
Warm the cream and milk in a medium saucepan over a medium heat, stirring often. Bring to a light simmer, then remove from the heat.
Place the eggs, extra yolks, sugar and vanilla together in a large mixing bowl and whisk to combine. Pour the mixture into the tart shell and sprinkle with grated nutmeg.
Place in the oven to bake for 45-50 minutes, until custard has slight wobble in the centre. Remove and set aside to cool.
Our friends at Wine Selectors recommend pairing this dish with a Botrytis Semillon.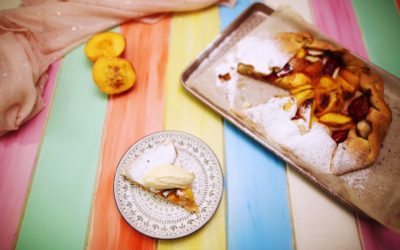 RECIPE BY: Matt Sinclair SERVING SIZE: 2 - 4 people INGREDIENTS: 2 cups plain flour 2 Tbsp caster sugar 125gm LURPAK unsalted butter, chopped 2 eggs ¼ cup almond meal 700gm firm but ripe stone fruit, thinly sliced** 2 Tbsp raw or demerara sugar Icing sugar and cream...