Olive Oil & Pepper Stewed Strawberries

RECIPE BY:
Michael Weldon
TIME:
Prep time 10 mins
Cook time 20-30 mins
INGREDIENTS:
2 punnets Coles strawberries
75g caster sugar
75mls Cobram Estate Classic Extra Virgin Olive Oil
½ bunch of basil, leaves sliced thinly
Coles Black Pepper
1tub Coles Mascarpone
½ bunch of basil, leaves for garnish
SHORTBREAD CRUMBLE:
1 packet of Coles Scotch Fingers
300g plain flour
150g caster sugar
METHOD:
Remove the strawberries' calyx (leafy tops) and dice them evenly before throwing them into a medium saucepan.  Drizzle some olive oil and add caster sugar – stir and cook on a low heat for 5 minutes, until the strawberries have cooked down and softened. Make sure there's still some texture in the strawberries.
Sprinkle a generous amount of pepper into the stewed strawberries, remove from heat and mix the basil through. Then, allow it to cool down by placing it into the fridge for 20-30 minutes.
To serve, using your fingers, crumble some Scotch fingers into a bowl and add a dollop of Mascarpone cheese. Pour the stewed strawberries in and season with more cracked pepper. Finish with some more crumbled biscuits, some basil and a light drizzle of olive oil. Enjoy!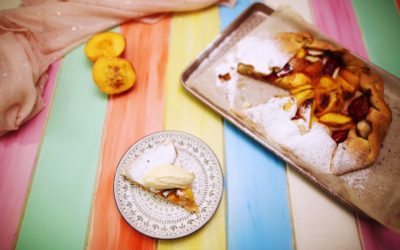 RECIPE BY: Matt Sinclair SERVING SIZE: 2 - 4 people INGREDIENTS: 2 cups plain flour 2 Tbsp caster sugar 125gm LURPAK unsalted butter, chopped 2 eggs ¼ cup almond meal 700gm firm but ripe stone fruit, thinly sliced** 2 Tbsp raw or demerara sugar Icing sugar and cream...