RECIPE BY:
Matt Sinclair
SERVING SIZE:
2 – 4 people
INGREDIENTS:
1/2 cup honey
3 Tbsp water
200ml Coles Thickened cream
200ml Jalna Sweet and Creamy Yoghurt
4 meringue nests, roughly broken
2 ripe peaches, roughly chopped
2 Tbsp pistachios, chopped
METHOD :
Place the honey in a small saucepan over a medium heat. Stir continuously until it begins to simmer lightly and foam.
Reduce the heat to low, stir continuously for another 2-3 minutes or until honey deepens in colour.
Remove from the heat, add the water and whisk through. Set aside to cool.
On a griddle pan, grill peaches with cut side down. Take of the heat and set aside.
Lightly whip the cream until thickened but still soft. Fold in the yoghurt, followed by half of the peaches and half of the honey.
Divide the mixture between 4 serving glasses, or a large trifle bowl and garnish with remaining peaches, pistachios and a drizzle of burnt honey.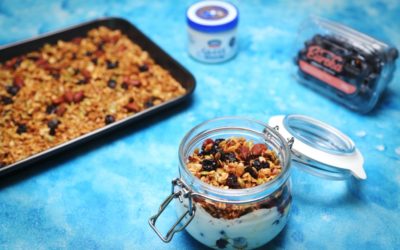 RECIPE BY: Michael Weldon SERVING SIZE: 2 - 4 people INGREDIENTS: 2 punnets of Coles Eureka blueberries 1 tub of Jalna Greek yoghurt honey GRANOLA: 2 cups of rolled oats ½ cup of sunflower kernels ½ cup dried cranberries ½ cup roasted almonds ½ cup coconut flakes ½...