RECIPE BY:
Olivia Wells
SERVING SIZE:
2 – 4 people
INGREDIENTS:
1.5 – 2 cup Self Raising flour
3/4 – 1 cup caster sugar (approximately ½ the ratio of flour)
3/4 cup milk
125g pre melted butter
2 eggs
1 tbsp Vanilla bean paste 
Tinned pears, to your preference + extra for top
Coles Frozen raspberries, to your preference + extra for top
Loaf tin
METHOD:
Preheat the oven to 180 degrees.
In a mixing bowl, add flour, sugar, milk, butter, eggs and vanilla paste. Mix together with a whisk.
Using a spatula, gently fold in the pears and raspberries.
Place mixture into a lined loaf tin. Spread additional raspberries and pear slices on top of the mixture.
Bake for 30 – 40 minutes or until an inserted skewer comes out clean.
Our friends at Wine Selectors recommend pairing this dish with a Moscato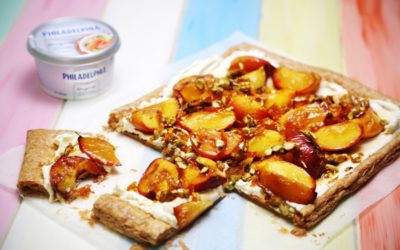 RECIPE BY:Matt SinclairSERVING SIZE:2 - 4 people INGREDIENTS:1 x 375g All butter puff pastry sheet8 peaches, washed2 tablespoons honey, plus extra to serve1 teaspoon vanilla bean paste1 x 250g Philadelphia spreadable cream cheesePISTACHIO PRALINE:½ cup pistachio nuts½...