RECIPE BY:
Michael Weldon
SERVING SIZE:
2 – 4 people
INGREDIENTS:
1 punnet of Coles Taste n See strawberries, quartered
¼ pineapple, chopped into 1-2 cm wide slices
½ cup Lurpak salted butter
1 sheet of puff pastry
½ cup sugar
½ cup cream
METHOD:
Preheat fan-forced oven to 180 degrees.
Put a large, oven-safe pan over stove. Pour in sugar and stir while melting.
Once sugar has melted and turned a golden brown colour, carefully pour in cream and add butter. Once butter has melted, take pan off heat and allow caramel to cool slightly for around 5 minutes.
Once cooled, place strawberries and pineapple slices into the pan, sliced face down, ensuring that the two fruits are evenly spread throughout.
Take puff pastry sheet and cover fruit in pan. Press edges down around fruit and pierce pastry a few times with a knife.
Put pan into the oven for 30 minutes, or until pastry is crispy and golden.
Take pan out of stove and carefully tip some of the extra caramel sauce into a bowl, keeping the pastry in place in the pan with a spoon.
With a plate wider than the pan, cover the pan and carefully flip so that the tarte tatin comes out onto the plate. Drizzle tarte tatin with the extra caramel sauce.
Serve with vanilla ice-cream.
Our friends at Wine Selectors recommend pairing this dish with a Botrytis Semillon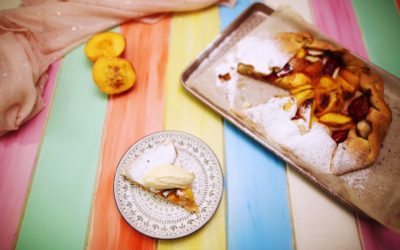 RECIPE BY: Matt Sinclair SERVING SIZE: 2 - 4 people INGREDIENTS: 2 cups plain flour 2 Tbsp caster sugar 125gm LURPAK unsalted butter, chopped 2 eggs ¼ cup almond meal 700gm firm but ripe stone fruit, thinly sliced** 2 Tbsp raw or demerara sugar Icing sugar and cream...